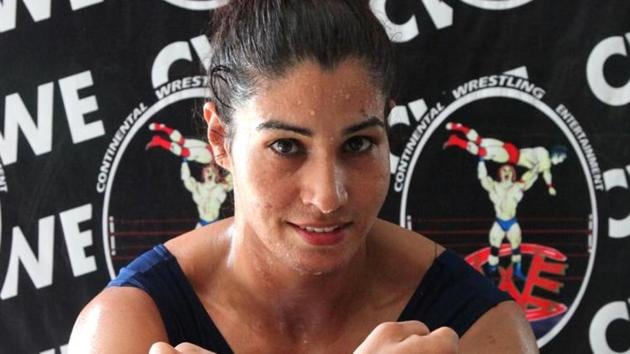 Meet Kavita Devi, India's first woman wrestler to sign for blockbuster WWE
Kavita Devi, who was a part of WWE's Mae Young Classic tournament earlier this year, has become the first ever Indian woman wrestler to sign with the biggest show in wrestling entertainment.
UPDATED ON OCT 17, 2017 08:20 AM IST
Kavita Devi,a former competitive powerlifter, has become the first ever Indian woman to be signed by the World Wrestling Entertainment (WWE). Jinder Mahal, the current WWE champion, confirmed the news in a special visit to New Delhi recently.
Hailing from Haryana, Kavita underwent training to be a professional wrestler under the guidance of The Great Khali (Dalip Singh Rana) at his Punjab based wrestling promotion and training academy. She shot to fame after her video, in which she wrestled against a woman wrestler named B B Bull Bull, went viral on social media. She also won a gold medal at the 2016 South Asian Games.
Kavita Devi also has the distinction of being the first Indian woman to compete in a WWE ring, as she was a featured participant in the Mae Young Classic women's tournament. She is expected to begin training at the WWE Performance Center in Orlando, Florida this January.
(Read | World Wrestling Entertainment signs first female performer from Arab World)
"It was a privilege to be the first Indian woman to compete in WWE," said Devi. "Participating in the Mae Young Classic with some of the best female performers in the world was a great learning experience. Now I am looking forward to pursuing my dream of becoming the first WWE Women's Champion from India."
"I'm extremely proud to welcome Kavita to WWE where she now has a great opportunity to become India's first female WWE Superstar. She is an inspiration to the youth of India and I wish nothing but success for her" said Jinder Mahal.
In another first for WWE's women's evolution, WWE also announced that Shadia Bseiso from Jordan has become the first Arab woman from the Middle East to sign a WWE developmental contract.
The WWE Performance Center is the home of the developmental system for WWE. With seven training rings, a world-class strength and conditioning program and cutting-edge edit and production facilities, the Performance Center allows new recruits to hone their skills through a comprehensive program that includes in-ring training, physical preparedness and character development. Additionally, recruits will be immersed in WWE's Professional Development program that focuses on four key pillars: Life Skills, Education, Wellness and Career Success.
Close