Mary Kom shocked after Indian boxing coach resigns due to salary delay
Mary Kom, first Indian woman boxer to win Olympics medal, said she was shocked after Stephane Cottalorda, India's first foreign coach for women boxers, resigned after complaining of delay in salary payment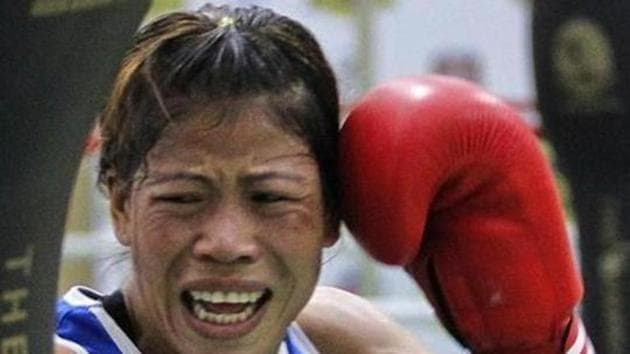 Updated on Sep 14, 2017 05:51 PM IST
MC Mary Kom, top Indian woman boxer, says coach Stephane Cottalorda's resignation has left her shocked and she would try to convince him on reconsidering it.
Cottalorda, India's first foreign coach for women boxers, resigned within a month of taking over, complaining of delay in salary payment and lack of professionalism in the national federation.
READ | Stephane Cottalorda, India's first foreign coach for women boxers, resigns
The 41-year-old Frenchman, who took over in August, e-mailed his resignation to the Boxing Federation of India (BFI), saying that he could no longer wait for the fulfilment of promises made to him.
Reacting to the development, Mary Kom, a five-time world champion and an Olympic bronze-medallist, told PTI, "It is very disappointing and I am quite shocked. Speaking as an athlete, I can only say that he had been an excellent addition to the camp."
"It was our responsibility to take care of his requirements. I hope he comes back, in fact, I will personally try to convince him on coming back," said the boxer, who is also a government observer for the sport.
Cottalorda alleged that he repeatedly communicated his concerns to the federation, which did not act on them.
The federation, on its part, asserted that most of Cottalorda's demands have been met and they would try and persuade him to come back. Ironically, his initial arrival itself was delayed by over a month owing to some procedural issues.
Besides being an experienced coach for women boxers in France, which earned him a three-star rating from the International Boxing Association, Cottalorda has also been a certified coach in the AIBA Pro-Boxing and the World Series of Boxing.
READ | Former South African cricketer jailed for raping woman 150 times over 10 years
When asked if he would be open to reconsidering his decision, Cottalorda said, "I do not have any confidence in the system. I must do what is best for my family."
Cottalorda, also a member of the European Boxing Confederation's (EUBC) Coaches Commission, had travelled with the Indian women's team for a training trip to Ireland last month.
He had decided to head back to France at the conclusion of the trip as he was unhappy with the delay in the disbursement of his salary.
READ | Arsenal coach Arsene Wenger prefers top-four finish over UEFA Europa League glory
His resignation comes as a blow to the women's team, which is gearing up for the Asian Championships in November in Vietnam.
"Everybody tells me it is the Indian system. But in Europe if you have a job, you are paid for it. If you don't get results, the contract is stopped."
Close Story