PV Sindhu wins China Open: Highlights
Nov 20, 2016 02:01 PM IST
PV Sindhu beat Chinese Sun Yu to win the China Open Super Series badminton championship. Catch highlights of the match between PV SIndhu vs Sun Yu here.
Well, there you have it folks. India's PV Sindhu defeated local favourite Sun Yu 21-11, 17-21, 21-11 in 69 minutes to win the China Open and collect her first Super Series title. The 21-year-old became the third non-Chinese woman to win the title after Malaysia's Wong Mew Choo in 2007 and India's own Saina Nehwal in 2014.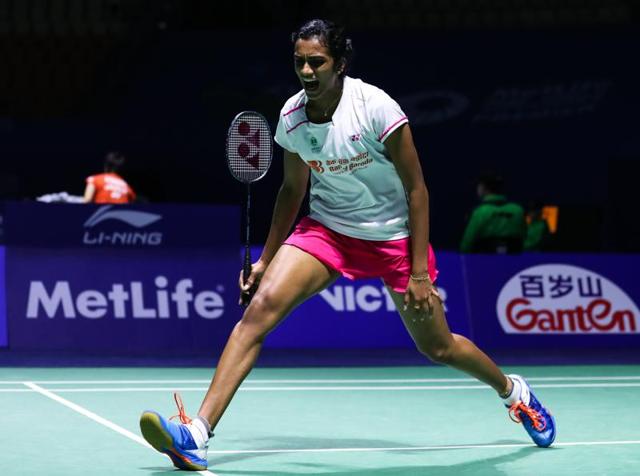 13:39hrs IST: First Super Series title for PV Sindhu. First of many, surely? Sun Yu on the other hand lost her sixth final of the year. Remember, she hadn't lost a game in the tournament before today's match.
13:35hrs IST: She needs only one! PV Sindhu defeats Chinese Sun Yu 21-11, 17-21, 21-11 to win the China Open!
13:34hrs IST: Sindhu catches the line with a backhand. Multiple match points here. 20-11.
13:32hrs IST: Sindhu is almost there. Sun Yu goes for a crosscourt smash and hits it wide. Sindhu is two points away. 19-10.
13:30hrs IST: And another. Sun Yu hits it long. Sindhu clenches her fist. Need to keep up the pressure. The Indian leads 16-9.
13:29hrs IST: Another error from Sun Yu, and Sindhu seems to have caught a second wind. Up 15-9.
13:28hrs IST: A great exchange at net. Sindhu ends up in an awkard position. Sun Yu hits crosscourt, but hits it wide. Sindhu is up 14-9 now.
13:27hrs IST: "You need to change it up more," the coach tells Sindhu. "Ye crosscourt bhi maar sakti hai, aap aage jaao."
13:25hrs IST: She has a three-point cushion, but Sindhu needs to step it up.
13:24hrs IST: Sindhu wants the shuttle changed. Sun Yu doesn't. All mind games. Sun Yu takes two points but hits it wide and Sindhu goes into the break leading 11-8.
13:22hrs IST: Sindhu is moving ahead. Great play at the net and Sun Yu suddenly looking a little too slow. The Indian takes four straight points to lead 10-6.
13:21hrs IST: A long rally, and Sindhu closes it out with an angled drop. Great movement from both competitors. 6-6.
13:18hrs IST: Sun Yu is being lethal from the rear court. Mixes up drops and smashes and Sindhu fails to reach. She leads 5-4.
13:14hrs IST: It is neck and neck. Sindhu is trying to force the issue but Sun Yu's defence holds up. The Chinese leads 4-3.
13:12hrs IST: This is a mirror image of yesterday's semifinal. Hope the ending is not the same. Sindhu needs to regain composure and start the deciding game on a strong note.
13:10hrs IST: Sindhu saves one game point, but loses her serve and the second game 17-21. Remarkable turnaround from Sun Yu.
13:09hrs IST: Sun Yu has turned this around. She has controlled the game and has now earned four game points.
13:08hrs IST: Sun Yu has kicked it up a gear. The Chinese pulls out some deft drops to take her lead to 19-16.
13:07hrs IST: Sindhu puts an end to the streak and wins two points. Sun Yu wins the next to take the lead again. The Chinese leads 17-16.
13:05hrs IST: Six straight points for Sun Yu. 16-14. The momentum seems to have shifted.
13:03hrs IST: The home crowd roaring in support now. "One more point," they chant. Sun Yu wins two and takes the lead. Sindhu trails 14-15.
13:01hrs IST: Sun Yu's holding on. A crisp return. A well-disguised drop. An error from Sindhu. The Chinese takes three points to close out the gap 13-14.
12:59hrs IST: Sun Yu fights back, but Sindhu quickly restores the gap. Wins a point with a swift backhand, gets the next thanks to her opponent's error. 13-9.
12:58hrs IST: Sindhu goes into the break with a four-point advantage. The Indian leads the second game 11-7.
12:56hrs IST: Sun Yu reaches for a low return but touches the net before the shuttle lands the other side. Umpire calls foul. Chinese is incensed, but replays vindicate the call. Sindhu leads 10-7.
12:54hrs IST: Coach Madhumita Bisht asking Sindhu to reach and go low. "Aap bhi neeche jaao," she says.
12:53hrs IST: Serve error from Sindhu! We're back level at 7-7.
12:52hrs IST: Good exchange at the net. Sindhu comes out on top. Leads 7-6.
12:50hrs IST: Sun Yu has dished out a couple of bodyline smashes this game. She's trying to avoid long rallies. Sindhu's trying to force them.
12:46hrs IST: A much tighter start to the second game. Sindhu playing a calculated game. Nevertheless, the Indian leads 6-4.
12:44hrs IST: Remarkably, that was the first game Sun Yu's lost in the tournament. The Chinese under pressure now.
12:43hrs IST: Clinical play from Sindhu in the opening game. Anything but, from Sun Yu. Long way to go though. As Sindhu herself showed yesterday, one game lead is nothing to sleep on.
12:41hrs IST: Sindhu earns multiple game points with a fierce cross-court smash, but fails to convert it. Sun Yu saves three, but Sindhu closes the game out. The Indian wins the first game 21-11.
12:39hrs IST: And the throws away the serve with yet another mistake on the lines. Sindhu leads 19-8.
12:36hrs IST: Better from Sun Yu. The Chinese makes the Indian retrieve and wins the point with an angled drop.
12:35hrs IST: Errors and missed returns from Sun Yu. The Indian is surging ahead now. 14-7.
12:32hrs IST: A superb down the line smash means Sindhu goes into the mid-game interval leading 11-5.
12:30hrs IST: Sindhu is 5'10". Her opponent is 6'0". Refreshingly, it is Sindhu who is taking advantage of that, making Sun Yu go low and reach for really low drops. And there's that cross-court smash! Sindhu leads 9-3.
12:27hrs IST: Feints, drop shots, and deep hitting. Sindhu comfortably in the driver's seat. Leads 7-2.
12:26hrs IST: Sindhu opens the proceedings and races away to a 4-1 lead.
12:21hrs IST: Sindhu trails Sun Yu 2-3 in their head to head. Their last meeting came at the Swiss Open in March, 2014. Sindhu lost that contest 21-18, 12-21, 19-21.
12:12hrs IST: Players to take the court shortly. Sindhu will look to win her first Super Series title but make no mistake, Sun Yu will be under the pump too. The Chinese, who has lost five finals this year alone, will have to shoulder the home fans expectations.
12:08hrs IST: In case you need a refresher, here's how PV Sindhu booked her China Open final berth.
How PV Sindhu came back from the dead to enter China Open badminton final
PV Sindhu will look to win her first Super Series title when she takes on Chinese Sun Yu in the China Open final in Fuzhao. Catch the live scores and updates of the China Open final between PV Sindhu and Sun Yu here.
World No 11 Sindhu trails her 9th-ranked opponent 2-3 in head to head. The last time the two faced off was at the Swiss Open in 2014.
Sindhu saved three match points and prevailed over Korean Sung Ji Hyun 11-21, 23-21, 21-19 in Saturday's semifinal, while Sun Yu defeated fifth seed Tai Tzu-Ying of Taiwan 21-8, 23-21.
This is the third straight year that an Indian woman has made the China Open singles final. Saina Nehwal won the title in 2014 and finished runner-up in the 2015 edition of the USD 700,000 Super Series Premier event.
For Sun Yu, Sunday's final is the sixth of the year. The 22-year-old finished runner-up at Thailand and China Masters and the Singapore, Australia and Japan Super Series.
After winning the silver medal at the Rio Olympics, Sindhu suffered second-round exits at the Denmark and French Open tournaments. A Super Series title would go a long way in bringing the season back on track for the Indian.