Ranchi Rays drub hapless Kalinga Lancers 7-2 in HIL 2017
Updated on Jan 26, 2017 11:18 PM IST
Ranchi Rays earned a revenge 7-2 win over Kalinga Lancers in a home match of the Hockey India League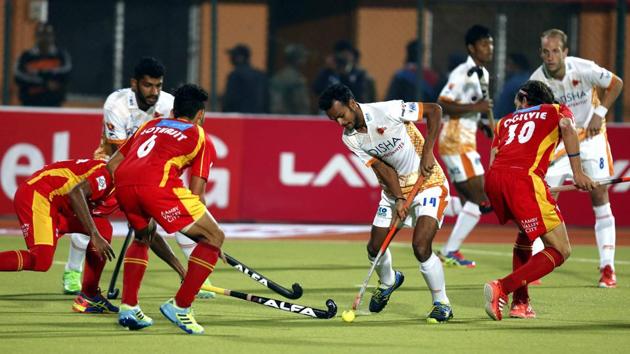 Putting up a dominant show, Ranchi Rays pounded Kalinga Lancers 7-2 to earn a revenge win in a Hockey India League match in Ranchi on Thursday.
Goals by Ashley Jackson (24'), Mohd Amir Khan (30'), Christopher Ruhr (31'), and Manpreet Singh (44') fetched the hosts five points and a revenge win, having lost 2-4 to the same opponents earlier.
Though the home team made a few successful forays into the striking circle, the Kalinga Lancers' defence was solid enough to keep them from taking an early lead, thus ending the first quarter in a stalemate.
Ranchi Rays had their first PC of the game in the 17th minute, Trent Mitton stepped up to the drag flick. His attempt was good but not enough to put it past Kalinga Lancers' goalkeeper Andrew Charter who continued to impress with an incredible save.
Another chance at scoring a penalty corner came in the 24th minute, and this time, Manpreet Singh was spot on with the injection while the experienced Ashley Jackson made no mistake in converting the goal and giving the home team a much needed 1-0 lead.
Kalinga Lancers earned their first PC of the game in the 26th minute but Gurjinder Singh's drag flick was brilliantly padded away by Tyler Lovell and ensured Ranchi Rays held on to the lead.
In the 30th minute, Ranchi took their lead to a strong 3-0 when Junior World Cup winner Sumit, from within the circle, perfectly passed the ball to Mohd Amir Khan for a deflection which sent the ball into the post.
Rampant Ranchi Rays continued their dominant form into the third quarter. This time Ashley Jackson took charge, seeking possession of the ball, and acting as the lynchpin in the midfield. Racing into the Kalinga Lancers' circle, it was Jackson's pass to forward Christopher Ruhr, a minute into the third quarter, that won Ranchi Rays their third goal taking their score to a comfortable 5-0.
This was also the 25th goal of the Coal India Hockey India League 2017. Another goal came in the 44th minute when Gurbaj Singh intercepted Kalinga Lancers' pass in the midfield and raced away towards their circle and passed to Manpreet Singh who made no mistake in finding the gap.
The score read 7-0 before going into the final quarter.
In the final quarter, Kalinga Lancers started fast, desperate to find the goal that would give some respite. In the 49th minute though, Ranchi Rays's defence came undone when Lalit Upadhyay put a field goal past Lovell making the score 7-2.