Saina Nehwal, PV Sindhu in second round of India Open badminton
Updated on Mar 29, 2017 10:39 PM IST
Saina Nehwal, PV Sindhu and top seed Carolina Marin entered the second round of the India Open badminton championship with easy wins.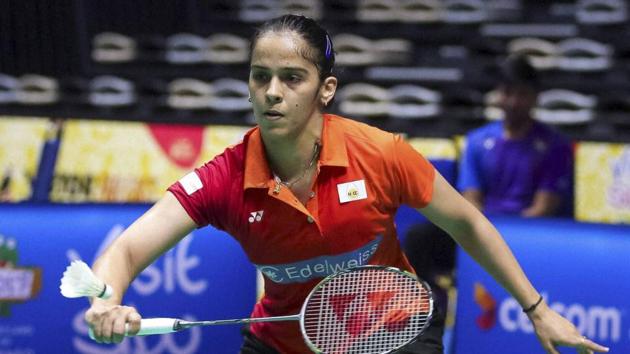 Saina Nehwal and PV Sindhu eased into the second round of the India Open World Super Series here at the Siri Fort Sports Complex on Wednesday. Saina Nehwal eased to a 21-10, 21-17 win over Hsin Chia Lee of Chinese Taipei and PV Sindhu scripted a 21-17, 21-6 win over compatriot Pantawane Arundhati.
Read More | Won't let Saina Nehwal regain world No 1 ranking: Carolina Marin
Top seed Carolina Marin also entered the second round defeating Min Hyo Kim of South Korea 21-17, 21-10.
Saina Nehwal took just over 35 minutes to tame her rival and stay in contention for the title. Saina took time to settle down, but once she found her rhythm she gradually tightened her grip to take the contest beyond the reach of Lee.
Lee lost her focus as the match progressed. Taking advantage of the situation, Saina was quick to enhance her lead from 4-2 to 7-2. Lee then conceded three consecutive points and Saina ran away with the first game in 15 minutes.
The second game, however, turned out to be more challenging, but Saina remained focused to stay ahead of Lee to wrap up the contest.
"It wasn't easy. But I had the confidence to win and picked up points at crucial junctures that helped me win,'' Saina said after the match.
"It was first match of the tournament so I was a bit cagey initially. But it was okay as the match progressed," she added.
Saina said her emphasis from now on would be good health. "In the past, I neglected my fitness regimen. But things are different. Key to success in badminton is to have overall development and not focus on one particular muscle. The whole body has to be strong enough to withstand the demands of competition," she said.
Easy for Sindhu
Sindhu said, she had to stretch a bit in the first game against Pantawane Arundhati. "Overall, it was good match. There were some good rallies. I am focused on the next game, taking one match at a time." Sindhu will next take on unseeded Saena Kawakami of Japan next.
With both Saina and Sindhu looking in good touch, there is a possibility of the duo facing each other in the quarterfinals. Sindhu however doesn't want to think about it at the moment. "I am more focused on Thursday's match. If at all there is clash between me and Saina, will try my best to win," she added.
India's Rituparna Das, however, had to work hard for a 19-21, 21-15, 21-19 win over Chiang Mei Hui of Chinese Taipei.
Verma beats fourth seed
In the men's draw, Sameer Verma upset fourth seed Son Wan Ho of South Korea 21-17, 21-10 to set up clash with Hong Kong's Hu Hun in the second round. Sameer's elder brother Sourabh defeated HS Prannoy 21-13, 21-16 and Sai Praneeth beat Nishimoto Kenta of Japan 16-21, 21-12, 21-19. Ajay Jayaram, however, lost to Viktor Axelsen of Denmark 23-21, 21-17.
Personalise your news feed. Follow trending topics