Wrestler Sakshi Malik eyes Asian Games gold, targets Tokyo Olympics
A surprise bronze medallist at Rio Olympics two years ago, Sakshi Malik is confident she has enough fight in her to compete at world level and mount a strong challenge at the 2020 Tokyo Olympics.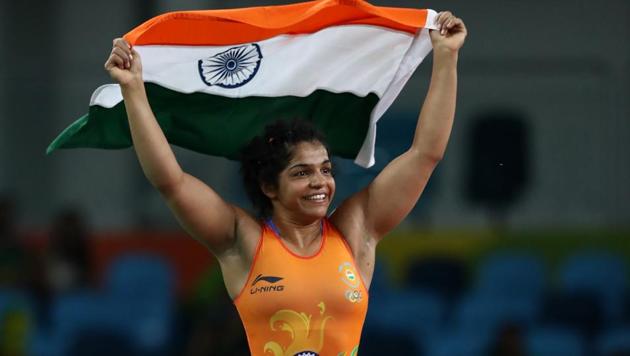 Updated on Jul 18, 2018 04:55 PM IST
She may have missed out on a Commonwealth Games gold, but wrestler Sakshi Malik sees next month's Asian Games in Indonesia as a platform to make amends and build up for the 2020 Tokyo Olympics.
Sakshi was one of two Indians to win a medal at the 2016 Rio Olympics, claiming a bronze. However, the 25-year-old was barely active for well over a year after that. Still, she had high hopes of winning the 58kg division at the April CWG in Gold Coast.
There was disappointment though as she had to be content with bronze, slipping a rung from her silver in 2014 Glasgow edition. However, Sakshi is upbeat about her chances in Jakarta and beyond.
"My preparation is going very well. Asian Games is an important event. We have been watching videos of opponents (expected to face in Indonsia) and preparing accordingly. I was sure I was going to win gold at Commonwealth Games but due to some shortcomings I couldn't," Sakshi said.
"Ups and downs are part of the game and so is luck, which is a big factor in deciding whether it's our day or not. I will try to do well in the Asian Games and make up for the misses."
However, Sakshi will have to raise her game many notches in the continental Games. "Asian Games is tougher than Commonwealth Games. The Japanese are difficult to beat and the Chinese can also be tough," said the Rohtak-born wrestler.
ALSO READ | Javelin thrower Neeraj Chopra bags gold at Sotteville Athletics meet
Sakshi is currently at a preparatory camp in Istanbul, which will be followed by participation in the Yasar Dogu ranking tournament, before she returns home on July 31. Sakshi, who sprung a pleasant surprise with her Rio podium finish, is keen for more for exposure.
"We get to face international opponents in these foreign exposure trips. There are wrestlers from various countries, which help us gain experience. Daily we fight different wrestlers, so there is a lot of change. All these competitions have a different role," said Sakshi, who won gold at the Commonwealth Championships in Johannesburg last December.
"We want to play more (in foreign tournaments). In a year, if we get 4-5 competitions it's good for us. Using that experience, we will learn more. We also tell the Wrestling Federation of India to make us participate in more tournaments so that we can perform better when the time comes (for competition)."
Sakshi's long break after the Rio Olympics raised questions whether she wanted to prolong her career, but she, who will only be 27 when the Tokyo Games arrive, is keen to give it a shot.
"First aim is Asian Games, then the World Championships qualifying tournaments. I know that there is very little time left to build-up for the Tokyo Olympics where I have to give my best."
HARYANA GOVERNMENT ROW
The Rohtak-based wrestler was among the top athletes who protested the Haryana government's controversial notification last month that athletes employed with it must deposit one-third of their commercial and professional earnings to the state sports council. The announcement led to a hue and cry, forcing the government to put the plan on hold.
ALSO READ | British Open debutant Shubhankar Sharma up for Carnoustie challenge
Sakshi said money was a major encouragement for an athlete.
"It is not right at all (Haryana government plan). A player works hard the entire year and to give one-third of our earnings is not correct at all. Most kids who come into sports do so because of sports money and awards, which are not taxable. That is why they put in extra effort, knowing there is money in sports and they can get good jobs," said Sakshi.
"If the government takes (away) one-third of our earnings, the players will be demoralised, so we were affected after we heard about the move. There is no direct talk with the government, but as of now the decision is on hold."
Close Story
Personalise your news feed. Follow trending topics