Kushwaha firm on more seats, makes light of JD(U)-BJP 50-50 formula
Nov 09, 2018 08:40 AM IST
Union minister Upendra Kushwaha said his party – Rashtriya Lok Samata Party – deserved more than three seats it contested in 2014, as the strength of the organsiation had grown since then.
The rift in the National Democratic Alliance (NDA) is refusing to die down with Union minister Upendra Kushwaha on Thursday categorically saying his party – Rashtriya Lok Samata Party (RLSP) — would not accept the "so-called agreement" reached between the BJP and the JD(U) over contesting equal number of seats in Bihar.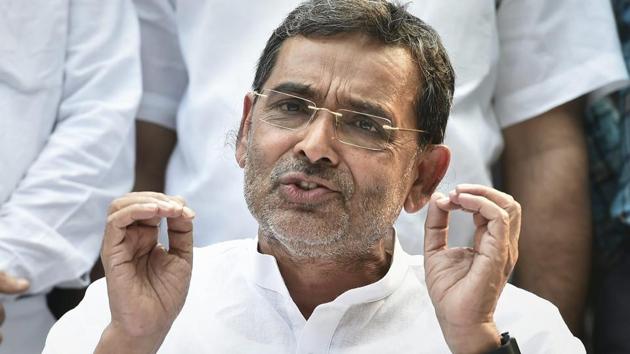 Kushwaha said his party deserved more than three seats it contested in 2014, as the strength of the organsiation had grown since then.
The RLSP chief reiterated that Bihar chief minister and Janata Dal (United) president Nitih Kumar's reported "neech" jibe at him was a serious matter.
"I did feel hurt. My supporters are equally hurt," he said.
The chief minister had last week said he did not want the discourse to be "brought down to such a low level" when asked comment on Kushwaha's claim that Nitish Kumar did not want to continue beyond 2020.
Wasting no time in the hot political climate, Kushwaha said Kumar had called him 'neech' and sought to know the DNA of Kumar, in an oblique reference to BJP's attack on the Bihar chief minster during last elections, when he had walked out of NDA.
"I was busy in my constituency. But in a couple of days I will reach Delhi and take up the issue. The talks on seat sharing have to also to take place. I just can't understand on what basis talks of 50-50 sharing between the BJP and the JD(U) have been floating around, when two other allies are yet to be taken into confidence. Whatever be the number of seats for the RLSP, it has to be decided officially in the NDA by the BJP, not by anyone else," Kushwaha added.
Amidst speculation that the two old allies – the LJP and the RLSP – have been asked to scale down their ambition due to the advent of the JD(U) into the NDA fold, Kushwaha said why only RLSP should be expected to make sacrifice.
"When there was time of profit, why was the RLSP left behind and not given its stake in Bihar. Why it is that only RLSP is required to make sacrifices at the time of loss?" he asked. RLSP has two MLAs in the Bihar legislative assembly, but has not got berth in the Nitish cabinet, while LJP has got one.
On LJP chief Ram Vilas Paswan's possibility of being accommodated in the Rajya Sabha, preferably from Assam, to bring down the LJP's claim by one seat, Kushwaha said all these things would have to be discussed.
"On the basis of media conjectures and statements, political decisions are not made. If Paswanji has to be sent to Rajya Sabha, the BJP will talk to him and make an official announcement," he added.
In the midst of fireworks between RLSP and JD(U), BJP is treading cautiously. "We respect the sentiments of all our partners. NDA is united and confident of winning all 40 seats in Bihar. The formal seat-sharing will be announced after due consultation with the leaders of all the alliance partners. There is no confusion within our alliance," said party spokesman Nikhil Anand.
However, the war of words is likely to intensify further at the 'Akrosh Rally' rally of the Kushwaha Mahasabha in Patna on November 10. Though Kushwaha said he would not be going there as it was not a party event, a party leader said his supporters would take up his issues and seek heightened security for him. According to another leader, Kushwaha was attacked in April by anti-reservation forces while he was on way to Motihari.
.
"Exciting news! Hindustan Times is now on WhatsApp Channels
Subscribe today by clicking the link and stay updated with the latest news!"
Click here!