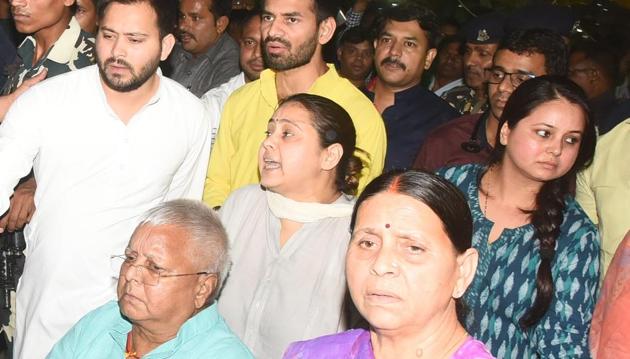 Of RJD's first family, sibling rivalry and its growing political aspirations
Despite facing legal hassles and ups and down in political fortunes, the RJD chief has managed to keep his party intact for two decades since the party's inception in 1997 after a split in the old Janata Dal parivar (family).
UPDATED ON DEC 10, 2018 04:42 PM IST
Long derided for promoting 'family rule' in the party, Rashtriya Janata Dal (RJD) chief Lalu Prasad has never cared for such criticism ever since he anointed his wife Rabri Devi to the chief minister's post in 1997 and later propped his eldest daughter Misa Bharti and two sons, Tej Pratap Yadav and Tejashwi, into poll arena by giving them tickets in the 2014 parliamentary and 2015 assembly polls.
The RJD chief defended his decision to bring his children into politics with his trademark 'gift of gab' saying it is natural for politician's children to enter politics as like children of doctors and engineers choose their father's profession.
A wily politician, the RJD chief has always trusted his family more than his party colleagues knowing well how shift of power could dislodge him from his coveted status as a Yadav chieftain since the time he was embroiled in fodder scam cases in 1996.
Despite facing legal hassles and ups and down in political fortunes, the RJD chief has managed to keep his party intact for two decades since the party's inception in 1997 after a split in the old Janata Dal parivar (family).
However, two decades later the RJD chief's life has come full circle. He has been sentenced in three fodder scam cases with his health posing as a big concern. The growing influence of family rule in the party has started showing it's negative effects with sibling rivalry widening between Tej Pratap and Tejashwi Prasad Yadav over who would be the heir to the RJD chief's legacy.
The vaulting ambition of Lalu's eldest daughter Misa and the unpredictable ways of Tej Pratap Yadav poses other challenges for the party's unity. Speculation is rife that a section of leaders are unhappy with the way the old guards have been slowly replaced by new appointees at the behest of Tejashwi, who is now the new face of the party after being elected as leader of opposition and leader of party's legislature (RJDLP).
"As long as RJD chief is at the helm of affairs as the party president, the RJD will not disintegrate. But yes, his incarceration, failing health and growing feud in the family between the two brothers is a cause for concern as it has started affecting the morale of the party workers," said a senior party leader, wishing not to be quoted.
RIFT BETWEEN BROTHERS
The rift between Lalu's two sons started in early 2016 after Tejashwi started calling the shots in the party as RJDLP leader and deputy chief minister in the grand alliance government. The elder sibling was more perturbed following Tejashwi's name declared as chief ministerial candidate in the party's national executive meeting last year, an indication that the 28-year-old would be the party's number 2 after Lalu.
Insiders said Tej Pratap had desired that his name be projected as party's national president- a post held by his father since party's inception - so that there is transitional change in the party. Tej Pratap wants to have a big say in organisational matters to match his younger brother's stature as a political leader. But he has not succeeded in it, a reason why he often makes controversial statements and indulges in gimmicks," said another RJD leader, considered close to Tejashwi.
Post marriage in May 2018, Tej Pratap has evidently become shakier over his falling stature in the party and had attracted eyeballs when he accused his parents including mother Rabri Devi of ignoring him and also accusing party's state president Ram Chandra Purbe of not accepting his recommendations to accommodate some leaders in the party's organisational set up. Recently, Tej Pratap sulked for not getting support for his planned Padhyatra from Patna to Sitabdiara to highlight lawlessness in the state. The 30-year-old skipped the RJD's crucial meeting with district president's chaired by Tejashwi and Rabri Devi.
"The so-called sibling rivalry between Tej Pratap and Tejashwi is a media creation," said their eldest sister, Misa Bharti. But that didn't deprive rival JD(U) from taking potshot stating Lalu overlooked the elder son for love of younger son.
TICKET ASPIRANTS IN FAMILY
Distribution of tickets in family and relatives would be a daunting task for the RJD chief, whose wife is a MLC, two sons are MLAs and eldest daughter is a Rajya Sabha MP. Insiders said that several relatives are nurturing ambitions to contest forthcoming parliamentary and assembly polls, prominent among them being Tej Pratap's father-in-law Chandrika Rai, MLA from Parsa in Saran district, eyeing the Chapra Lok Sabha seats. "I have been a six-term MLA. I would surely contest the Lok Sabha polls," he said, keeping his choice of seat a secret.
Misa Bharti too is interested in contesting again from Patliputra parliamentary seat, a constituency she had contested unsuccessfully in 2014 Lok Sabha polls.
Though Lalu's other daughters haven't shown interest to debut in polls, but almost all are married in political families in Uttar Pradesh, Haryana and Delhi.
"The RJD is one family's party. Everybody knows how decisions are taken," said a disgruntled leader.
THE ROAD AHEAD
Despite top leaders including Lalu, Tejashwi and Rabri embroiled in corruption cases, the party has so far remained intact. Insiders said the RJD chief has successfully managed to script a smooth transition of power to his younger son without much resentment among senior leaders.
"With his father in jail, Tejashwi has evolved as a mature leader and has kept the party intact. The RJD would be performing well in the 2019 parliamentary polls under Tejashwi 's leadership," said Jagdanand Singh, a senior RJD leader and former Buxar MP.
As things stand, the RJD is still banking on Lalu's Yadav chieftain stature with unparalleled popularity among Muslims too. But, insiders in the party are apprehensive that the party could suffer a big setback in coming days incase Tejashwi and other family members are arrested in the land-for-hotel-scam, a case being investigated by the CBI.
"The entire charade of rift in the family spread by our opponents is nothing but a ploy to digress from the core issues of misgovernance in the state, which RJD is articulating in the public domain and getting unprecedented traction of people," said party's national spokesperson and MP Manoj Jha.
FAMILY TREE
Lalu Prasad, RJD chief
Wife Rabri Devi, MLC
Eldest daughter Misa Bharti, married to Shailesh Kumar, businessman
Rohini Acharya married to Rao Samresh Singh, computer engineer.
Chanda, married to Vikram Singh, pilot in Air India
Ragini, married to Rahul Yadav, businessman-politician
Hema, married to Vinit Yadav, businessman
Anushka, married to Chiranjeev Rao, politician
Tej Pratap Yadav, MLA, Mahua
Tejashwi Yadav, MLA, Raghopur & leader of opposition
Raj Laxmi, married to Tej Pratap Singh Yadav, MP
Aishwarya Rai, daughter-in-law, married to Tej Pratap, daughter of Chandrika Rai, MLA, Parsa and granddaughter of former Bihar CM Daroga Rai
Close