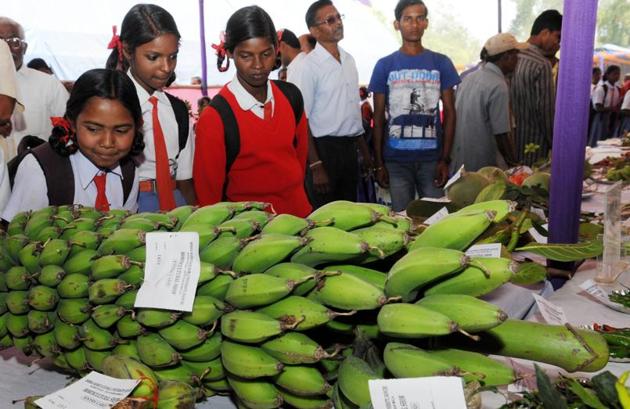 West Bengal firm eyes Bihar to tap banana production
The West Bengal firm will offer Bihar farmers free advice on horticulture and provide them genetically engineered high-yielding saplings at cost price.
PUBLISHED ON FEB 22, 2018 12:09 PM IST
Banana cultivation is set to get a fillip with Keventer Agro Limited (KAL), one of the largest sellers and suppliers of ripened banana in eastern India, eyeing Bihar to expand its footprints beyond West Bengal and Jharkhand.
The firm will offer Bihar farmers free advice on horticulture, besides providing them genetically engineered high-yielding saplings at cost price. It will also extend buy back option to farmers for their produce at market price, said KAL head of farming Jayanta Chakraborty.
Sold under the brand name Keventer, the firm deals in 'G9 (Grand Nain) bananas', one of the most commonly cultivated bananas, which are also known as Cavendish bananas, or green bananas in common parlance.
Sourcing data from the mission on integrated development of horticulture, Chakraborty said, "With our guidance and use of tissue culture saplings, the annual banana production in Bihar can easily go up from the present 12 metric tonne per acre (approx.) to 21 metric tonne. Besides, quality of these bananas will be better, as their sweetness and colour will be better than the conventional ones."
In Bihar, banana is grown in around 2,000 hectares in districts like Vaishali, Katihar, Kishanganj, Bhagalpur (Naugachia) and Purnia. The Hajipur 'chiniya' variety (small size with special flavour) is very famous in the country and also exported. However, Chakraborty said it had a lesser shelf life and the yield was erratic as compared to genetically engineered 'G9' variety.
To begin with, the firm is targeting roughly 100 hectares of land, covering nearly 300 farmers from Bihar's Gangetic tract of Bhagalpur, Naugachia and Purnia. Besides being producers of the 'G9' variety of bananas, these areas are closer to Siliguri and Durgapur in West Bengal, where the firm has its ripening centres.
A farmer could expect to harvest three crops in 27 months with a single plantation of genetically engineered 'G9' variety, as compared to two crops of conventional variety in as many years. Another advantage over the conventional variety was that the fruiting period is less — a maximum of 11 months since plantation for the first crop and eight months each for the second and third crop.
The scientific tissue culture plants grew evenly and with higher produce, it gave farmers a better bargaining power in open market, he added.
The firm, which has an annual production of 20,000 metric tonne of banana, at present has marketing base in West Bengal and Jharkhand. "If we are able to tap Bihar farmers, we plan to spread our marketing operations to Bihar, Odisha, Uttar Pradesh and Delhi," Chakraborty added.
Maharashtra, Tamil Nadu, parts of Andhra Pradesh, Gujarat, West Bengal and Bihar are among the leading banana producers in India.
"The firm's approach is to provide farmers with a one-stop shop where they can avail of agriculture inputs, advice and also allied services like bank loans and crop insurance from a single source," said Sajeev Srivastawa of Bihar Vidyapeeth.
Company representatives will interact with farmers at the Bihar Vidyapeeth, an incubation centre, here on February 24, to encourage them become partners in progress.
Close