Diwali@ campus hostels in Pune: puja, diyas, get togethers and sweets
Less number of holidays, exams scheduled after festival vacations are reasons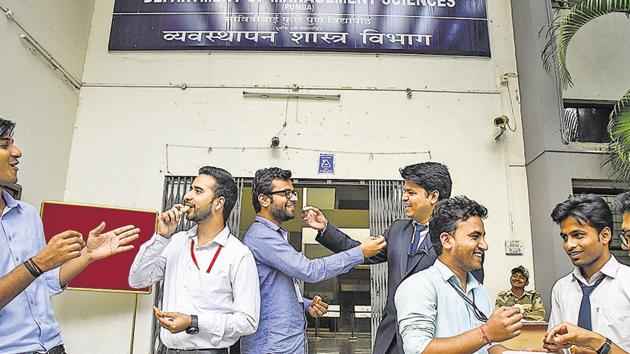 Updated on Nov 02, 2018 04:46 PM IST
Hindustan Times, Pune |
Prachi Bari
Students who stay in hostels usually look forward to holidays, especially the Diwali holidays, as it will give them an opportunity to be with their family and friends. Many students studying in Pumba (The department of management sciences, Savitribai Phule Pune University) are not travelling back home for Diwali this year.
Limited number of holidays and scheduled assessments and exams immediately after Diwali vacation are the reasons holding them back from travelling to their home towns.
Pradeep Tiwari from Chattisgarh is planning to celebrate Diwali inPune. "Forus,themost important day is Laxmi puja and since I am not going home, I plan to hold a puja (prayer), light diyas (earthern lamps) and hold a get together in my room. There is hardly any time for me to travel and hence I have decided to stay back."
Similarly, Mayuresh Nikam who hails from Nagpur feels that travelling home for just three days is not feasible. "If I had more holidays, it would be nice to spend time relaxing with my family but holidays are only for three days and now after living alone for almost a year, I don't want to go home for a short visit. Instead, I will spend time studying and will also be enjoying with my room friends. For Diwali, we plan to meet outside for lunch ."
For Saurabh Acharya who hails from Bihar Chatt puja is more important than Diwali.
"I would rather take a longer week off during this puja. Anyways, this time the exams are too close to Diwali, with the first paper being on November 12, so no point in going so far home," he said.
Deccan College post-graduate and research institute has students from different states of India. "Students who have homes in Mumbai, Nashik and nearby cities can afford to go home but to travel to West Bengal it takes me two days and these vacations are not enough," said Avradeep Munshi, Ph D student of Archaeology.
Munshi says that they would celebrate Diwali in the hostel campus. "We will decorate the hostel in the main campus with lights and hold a gettogether. If professors are staying in the campus, we will invite them too. I will hang around with my friends from different states like Kashmir, Kerala and Assam. We spend time talking about our families and lives," he said.
Most of the students who are staying back in hostels for the Diwali holidays in Deccan College either have field work or head out for excavations.
Most of the engineering students of College of Engineering, Pune (COEP) who hail from the north eastern states of India are the ones who are staying back in hostels during the Diwali season. Nani Rila, a student of COEP. who hails from Arunachal Pradesh said," As most of the students go home for Diwali, I don't really get to celebrate Diwali here. We get holidays for a week and the flight tickets during the festival season is very expensive. After reaching Guwahati, it take another six hours for me to reach my village. I miss being with my family for the Diwali celebrations."
Foreign students get into festive mood too!
The international centre in Savitribai Phule Pune University (SPPU) plans to host a special evening on November 2 for their students from countries like Afghanistan, Nigeria, Bangladesh, Nepal, Iran, Iraq and Germany.
Mohammad Asim from Afghanistan who is pursuing master's in politics and public administration said, "I have heard about the Indian festival Diwali where they buy gifts for their families and friends, wear new clothes and enjoy good food together. I have few Indian friends in the university and they have invited me home. Their homes are far away and so I will be stay at the hostel and enjoy the event planned by the university. I will head to Goa thereafter, which I am told is a beautiful holiday spot."
"I am staying back in the hostel and will be preparing for exams. I am eagerly waiting for the delicious sweets that my classmates will bring back from home," said Ibrahim Darboe from Gambia who is pursuing Master's in Physics.
Heronmoye Tanchangya from Bangladesh who is pursuing gender, culture and development studies with focus on women said that she is looking forward to visiting her friend's home in Pune for Diwali.
"I like the rangoli that women draw in front of their homes, the beautiful floral decorations, the paper lanterns and the glittering lamps. I plan to decorate my room to bring in the cheerful atmosphere of Diwali," she said.
Nabin Giri from Nepal who is studying in Pumba has internal examinations just after Diwali holidays. "I miss the traditional way of celebrating 'Deepawali' as it is known in my country. Few of us from the hostel plan to perform the puja which will be followed by a special dinner outside."
Close Story