Ecofriendly Ganeshotsav: Pune moves towards 'Green Ganesh' this year
Know how to welcome the elephant-headed God and keep environment clean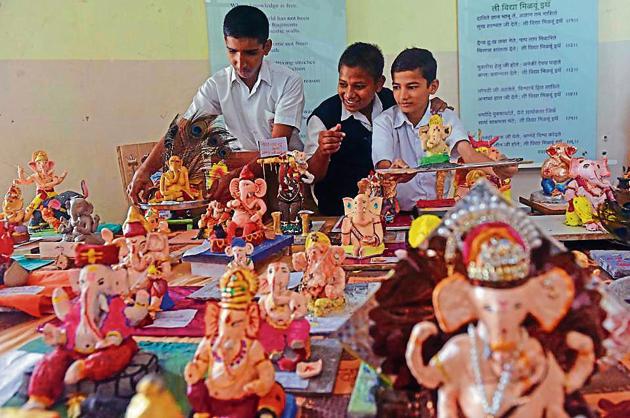 Updated on Aug 23, 2017 02:20 PM IST
Hindustan Times ,Pune |
Prachi Bari
The word ecofriendly describes materials, products and processes that are completely harmless to ecosystems, so they do not damage or break natural and living systems. There are a range of choices that bring you closer to a completely natural and ecofriendly lifestyle.
The size of your idol, the material it is made of, the paints it uses, whether you celebrate alone or together, the way you immerse the idol and most importantly your inner intention and prayer, is what defines whether your celebration is truly ecofriendly or not.
When deciding how you are going to celebrate consider the idols you use, decorations you use and the manner in which you dispose of these two after the festival.
Lolita Gupta, co-founder of eCoexist , an NGO working for green initiatives says, "All the materials you use in the Ganesh celebration should be natural - which means they should be biodegradable and easily compostable - materials like synthetics and plastic and thermocol should be avoided at any rate."
Originally, the tradition was to bring a little bit of soil from the banks of the river and mould the idols from this soil. The worship was of the soil initially.
After the worship ritual is over this soil was returned to the source where it came from.
It is believed that the soil carried the prayers and blessings from the worship downstream to other villages and communities. In this way of celebrating absolutely no polluting impact results from the celebration.
Today there is a choice of an idol made of any biodegradable material - clay, paper, cow dung, soil, one can also choose to keep a permanent idol, which you use year after year.
Alongside this you can keep a miniature idol for 'visarjan' (immersion) and only immerse that. In some families they place a betel nut and tobacco leaf next to the idol and immerse those.
According to Manisha Gutman, also co-founder of eCoexist , says, "It is very important that the paints your idols are painted with are not chemical in any form - even water-soluble water colours also contain levels of lead and mercury.
"You can choose natural pigments made of vegetables such as spinach and beetroot, earths such as multani mitti, geroo and herbs such as turmeric to make sure the paints are truly natural.
Paints that profess to be non-toxic or ecofriendly have to be studied to understand what they are made of before you use them."
People should also be aware that currently, water resources are very precious as they are depleting and are being polluted by so many causes.
Thus, to prevent any water pollution through the Ganesh celebration activists recommend that people do a home immersion in a bucket of water and pour the water into the soil. This will allow the materials of the idol to break down in the soil and prevent water pollution.
"The ultimate aim of immersion is for us to return what we took from the earth back into the earth.
"This can happen through the soil as well as your blessings and prayers will merge with the soil," says Lolita, "In the materials you use and the manner in which you choose to celebrate keep a conscious awareness of what impact it has on the planet. None of these materials we use or immerse should in any way bring harm to life - be it fish in the lakes and rivers, or animals that may eat the plastic bags we throw."
It is indeed possible this year to celebrate a clean and green Ganeshotsav keeping the earth safe and sound.
Close Story
Personalise your news feed. Follow trending topics