Campus Connect: Expert advice to crack the JEE jitters
JEE Advanced 2018, to be held on May 20, will test students' knowledge and composure.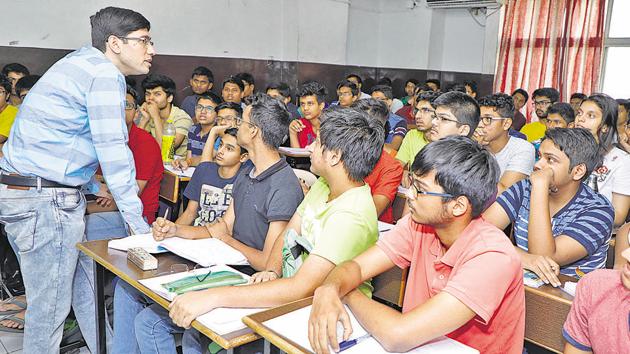 Updated on May 11, 2018 02:49 PM IST
Hindustan Times, Pune |
Ananya Barua
With less than 10 days to go for the Joint Entrance Examination (JEE) - Advanced 2018, the pressure is on for engineering aspirants throughout the country. Scheduled to be held on May 20,the JEE Advanced 2018 , like every year, is conducted by the Indian Institutes of Technology (IIT) under the guidance of the Joint Admission Board (JAB). After the registrations for the exam closed on Wednesday, city-based experts share their tips and tricks to help students crack the exam.
"It is true that hard work pays dividends, but with only a few days remaining, it is important to tighten the reins and concentrate on your preparations," said Vaibhav Bakliwal, founder, Bakliwal Tutorials.
"Presuming you have prepared well and have covered the syllabus, it is now important to focus of what you know best. To start with, the best thing to do is divide the syllabus into subjects you are comfortable with and those that you find difficult. The subjects that you are comfortable in should be your main focus. Trying to learn new things or wasting time on concepts you are unsure of should be avoided. The point of the exam is not to test how much you know, but how well you understand what you have learned," said Bakliwal.
This year, a total of 1,60,716 students have registered to write the exam. There are 97,866 Scheduled Tribe (ST) and Other Backward Classes (OBC) students registered for the exam, while 62,850 students are from the general category.
Emphasising the need for emotional and psychological stability along with academic stability, Subodh Pethe, mathematics professor, M Prakash Academy, said, "Students need to remember to live in the present and not be perturbed by exams that they have given throughout the years. This exam should be their only focus, and that can be achieved through a calm and composed approach to the goal. Sleeping the night before the exam is crucial as well. Students should regulate their daily routine according to the exam schedule in order to avoid fatigue. It is best to maintain a routine and sleep before 11pm, and wake up before 6am."
Bakliwal added, "Testing yourself consistently and revising key concepts through the learning process is key. Also, the ideal situation is to attempt practice tests in a classroom in order to help overcome any phobia. It is during these trials that students spot their personality traits when in an examination hall, their strategic mistakes, speed and other parameters that affect their result."
"Students can also take online tests to see how much time they spend on each question. Ideally, students should not spend more than three to four minutes for each question," he added.
Close Story
Personalise your news feed. Follow trending topics