Hindutva on streets of western Maharashtra: Who is Sambhaji Bhide? Supporters take to streets to show you
Followers on Wednesday held protest march in Pune and other places in western Maharashtra, including Sangli, the home town of Hindutva leader accused of orchestrating Bhima Koregaon violence on January 1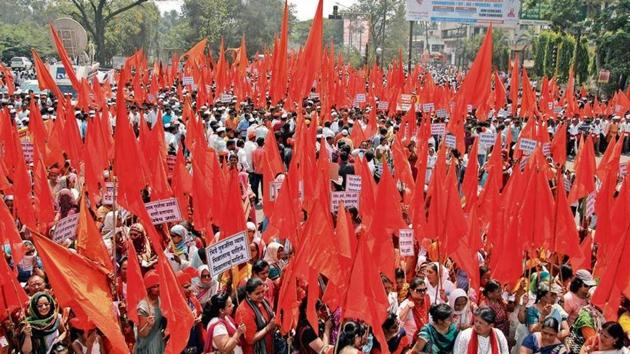 Updated on Mar 29, 2018 12:25 PM IST
Hindustan Times, Pune | By Shalaka Shinde
Pune A day after chief minister Devendra Fadnavis gave a clean chit to Shiv Pratisthan founder chief Sambhaji Bhide, his followers on Wednesday held protest march in Pune and other places in western Maharashtra, including Sangli, the home town of Hindutva leader accused of orchestrating Bhima Koregaon violence on January 1.
In Pune, supporters assembled in the morning at the banks of Mula river despite the city police denying them permission to hold a march. The supporters later gave a memorandum to district collector Saurabh Rao demanding that case against Bhide and Milind Ekbote, founder of Samastha Hindu Aghadi, be withdrawn. The supporters also demanded a case to be filed against Dalit leader Prakash Ambedkar and other members of leftist organisations who were present during the December 31 event at Shaniwarwada.
On Monday, Ambedkar had held the Elgaar March and demanded the arrest of Bhide within eight days. Wednesday's marches by Bhide's followers are seen as creating pressure on the government.
Shiv Pratishthan members said a conspiracy had been hatched by Bhide's opponents on the basis of a bogus complaint.
In Sangli, the supporters held a massive march titled 'Vijay Morcha' following the CM's statement in the assembly where Fadnavis said that the police did not find any evidence against Bhide so far. Supporters of Bhide from nearby districts had gathered to attend the march.
Similar rallies were held in various parts of the state and a letter was submitted to the chief minister by the members of the organisation in Mumbai. "We had called for the rally in 38 parts of the state," said Sanjay Jadhar, Pune head of Shree Shiv Pratishthan.
Police were present in moderate capacity as close to 200 people gathered under the bridge across the Pune Municipal Corporation (PMC) building. Bhide's supporters have demanded that the case against Samasta Hindu Aghadi leader Milind Ekbote be dismissed. Ekbote is currently in Yerawada Central Jail serving 14 days of judicial custody in the case of causing the Bhima Koregaon violence.
"The woman who filed the case claimed that she had seen guruji (Sambhaji Bhide) at the violence site in Bhima Koregaon. However, it has come forward that he was in Islampur, Sangli that day. The woman should be arrested and questioned," read the letter submitted by the Hindutva supporters to the district collector.
Janabai Phatangane, mother of Rahul Phatangane, the youth who was killed in Bhima Koregaon was present at the Pune rally. "It 's been three months since the incident, nothing has been done about it yet," she said.
Various slogans in support of Ekbote, Hindu religion and against Elgaar Parishad attendees were raised during the rally.
Close Story