What is the state of pet breeding industry in Pune?
Hindustan Times, Pune |
Anjali Shetty
May 27, 2018 03:10 PM IST
Government officials, pet enthusiasts on ill-effects of breeding and how it affects animals
Story: In April, a Boat Club road resident found her 13 year old Persian cat who was lost for 2.5 years through a social networking site. The owner suspected that a breeder had kidnapped the cat as she was a pure bred Tortoiseshell Persian cat. However, because she was spayed the breeders abandoned her within a few months. Taking cue, we spoke to animal welfare officers, pet lovers and people closely involved in the pet industry about the state of the pet breeding industry.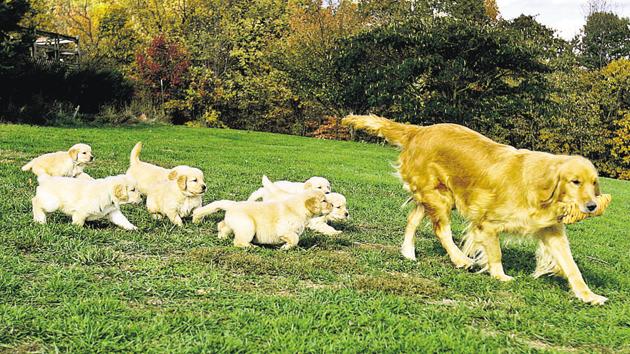 Rajeev Kumar, co-founder, Pet Yo Festival said, "The Indian pet market is approximately 50-million-plus industry, and is expected to register double-digit growth in the coming years. The market is categorised into various segments i.e. pet food, pet accessories, pet grooming, pet healthcare, pet breeding etc."
With more and more awareness being spread about the need to adopt and not shop, still the industry is filled with illegal breeding to meet for the never ending demand of pedigree pets. Nitesh Khare, Founder and President - Society for Animal Safety (SAS) India, said, "The major issue with pet industry is illegal breeding/home breeding without following the guidelines of ethical Breeding resulting in mistreatment of puppies and dogs."
The Indian pet breeding market is one of the fastest growing market in the world.Kumar pointed out, "However it is still a highly unregulated and unorganised sector. The rapid growth has led to the mushrooming of many unlicensed breeders and thus animals suffer from inhumane breeding practices. Lack of rules for animal welfare and limited enforcement of existing laws are the main reasons behind it."
Vineeta Tandon, honorary animal welfare officer with the animal welfare board of India, believes there has been a slight change in the industry. She said, "Surprisingly, we have seen a change in the mindset of people. A success rate of 60-70 per cent has been noticed in adoption one Indie strays."
Issues that the pet industry is facing
Though the pet industry is growing, it is yet at a relatively nascent stage in India. There is A lack of awareness both among buyers and novice breeders. Vineeta added, "The New Dog marketing and sale rule under the Central government issued last year in May clearly states many facts. It has stated pointers which indicate that almost every breeder is illegal if they do not posses a valid licence for the State Animal Welfare board."
There are proper standards for breeding and caring for animals issues set by the government. However, not everyone abides by it. Vineeta points out that the breeding consists of online and offline sellers. "First and foremost we need to take action against websites that sell puppies or kittens. It should be made mandatory for them to showcase their animal welfare board license. Puppies of less than eight weeks should not be displayed or uploaded on these sites. Also local authorities such as PMC, PCMC AND KCB should keep a close watch and take necessary action." She added that an aquarium store is only allowed to sell fishes, no other species. "You cannot even keep birds or other animals in an aquarium store. Strict regulation needs to be seen with such stores."
Khare, who is also an honorary animal welfare officer shared, "Orders from Supreme court are already in place to stop import/export and one can't bring exotic breeds to India now. However, existing breeds are still tortured by force breeding."
Rajeev added, "There needs to be proper standard for breeding and animal care. The Government though has released new notifications under prevention of cruelty to animals act, but the information and awareness is very low among the breeders and the masses. If there is awareness and proper enforcement of law, the condition of the animals would increase drastically. Also people are relating breeds to status symbol and thus are resorting towards exotic/ foreign breeds, which is impacting our Indian dogs/cats."
Ethical Breeding:
1. Any female dog can be bred only once in a particular season.
2. Female dog should have a veterinary health certificate before the breeding.
3. Breed only from sound stock of good temperament.
Rules for Breeders:
1.A breeder must have a license of breeding ground the State Animal Welfare Board which is renewed every year.
2. A specified size of cages are specified in the AWBI circular in which the dogs should be kept.
3. Inventory should be maintained of each dog and puppies before and after selling.
Sale Guidelines:
1. A puppy should not be sold before 45 days.
2. Puppies cannot be displayed in the pet shops for the purpose of sale.
3. Every puppy should have a health certificate
Dos while adopting a pet
Rajeev suggested, "First time pet parents find it very difficult to find clear information on pet parenting, If you are a first time pet parent, you need to be aware of the responsibility of having a pet. its not just about the impact on your life, but also the life of an animal."
1. Do a proper research before bringing a pet at your house as you are going to be responsible for a life who is dependent on you for his whole life
2. Try to understand the dietary, exercise requirements, temperament, life span, breed related health issues etc before taking a decision.. as then less pets will be disowned and left on roads or shelters.
3. If you are buying a pet, please ensure that the breeder is licensed or registered with the state Animal welfare Board and keeps the animal with proper care (no such practices : mutilating animals' ears, force-feeding animals fluid to make them appear fatter, hot branding, cold branding etc are taking place), ask for the medical health records for both the mother and the puppy.
4. Timely vaccinations are very important to ensure safety of everyone including the dog, pets love fresh food , giving them variety and options keeps them happy and healthy.
Don'ts while adopting a pet
1. Never buy a pet for status symbol, in long term, it's neither good for you or your pet if you are not emotionally involved.
2. Don't fall for your children's antics or demands, bring a pet home only if the entire family is okay with the decision and is ready for their upkeep.
Rates at which dogs are sold
1. Varies from breeds to breeds. Starts from 5K and goes upto 1.5L
2. Common breeds like Labradors and Golden retrievers are available from Rs. 8,000 - 30,000.
3. Huskies are around Rs45,000-80,000
4. Persian and other exotic cat breeds are sold somewhere between Rs10,000 to 50,000