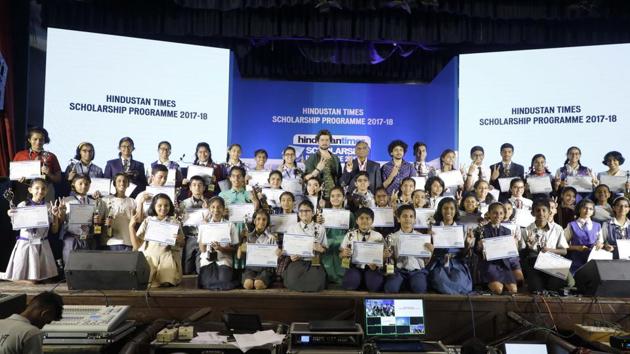 HT Scholarship: Pune's brightest young minds shine
Pune's 50 brightest young minds dazzled on Tuesday as they were awarded the Hindustan Times Scholarship 2017-18 of Rs 25,000 each, a trophy and certificate, for their talent, originality and intelligence. 
UPDATED ON FEB 28, 2018 02:53 PM IST
The Hindustan Times Scholarship programme is a unique endeavour which seeks to recognise and reward bright students from the city. This programme is one of the several initiatives by Hindustan Times in the field of education and was launched in Mumbai in 2011. So far, more than four lakh students have benefited from this scholarship. The Hindustan Times Scholarship initiative is one of its kind, as the selection process takes into account not just academics, but also focuses on the student's creativity, originality and extracurricular interests.
In its very first year in Pune, the scholarship programme received an overwhelming response with a total of 24,000 entries from various schools in Pune. The students were asked to write essays on 'Would you prefer a world with or without social media?' Out of these entries, 150 essays were shortlisted and the respective students were interviewed. Later, 50 students were chosen and presented with a trophy and certificate as a part of the scholarship . The presentation ceremony was held at the Nehru Memorial Hall on Tuesday.
Actor Raqesh Bapat, actor director, Alok Rajwade along with resident editor, Hindustan Times, Pune, Abhay Vaidya, formed the panel who interacted with students in a lively question and answer session.
A large number of students, parents and school representatives from various schools in the city who had participated in the scholarship programme filled the Nehru Memorial hall to capacity.
Sharing his views about the initiative, Bapat said, "The Hindustan Times Scholarship programme has given a platform to students to display their talent which is very important. When we were young we never had such platforms and these students are fortunate to have one."
Rajwade was happy that students were asked to write an essay as a part of the scholarship programme. "Writing is a beautiful experience and it is wonderful to hear that children have written such thoughtful essays." He said that putting thoughts on paper helps us understand ourselves better and hence, all must write at least one page every day.
Mansha Budhrani, a French teacher from Euro Schools, appreciated the initiative. "Hindustan Times scholarship for students is a brilliant idea," she said. "It is important that Hindustan Times has taken up such a current and relevant topic for the discourse. It is also very important for students to come out of the conditioned method of learning and embrace critical thinking. Such programmes and initiatives help to achieve just this which would help students in a major way."
Ecstatic over his selection for the scholarship, Prabhav Tomar, a student of standard VIII, Army Public School, Ghorpadi, said, "The entire process of writing on a topic which we, personally, are so attached to was extremely delightful. I enjoyed every stage of the competition and right now I am elated to have won a scholarship. It is a great achievement for me."
In addition to the 50 students who were awarded the scholarship, city -based Sinhagad Group of Schools was also presented with a special award for maximum number of entries in the HT scholarship programme 2017-18.
Close