Kharadi residents receive no water from PMC despite paying
₹

3.36 crore tax

Hindustan Times, Pune |

, Pune

Nadeem Inamdar

May 28, 2018 02:27 PM IST
Kharadi residents spent ₹4.75 crore on private water tankers in order to meet their daily needs.
A right to information (RTI) application filed by Kharadi housing societies welfare association (KHSWA) revealed that the Pune Municipal Corporation (PMC) has collected ₹78.08 crore as property tax from Kharadi area in 2017-18 alone. According to RTI data, of the ₹78.08 crore, ₹3.36 crore was paid as water tax. However, during the same year, Kharadi residents spent ₹4.75 crore on private water tankers.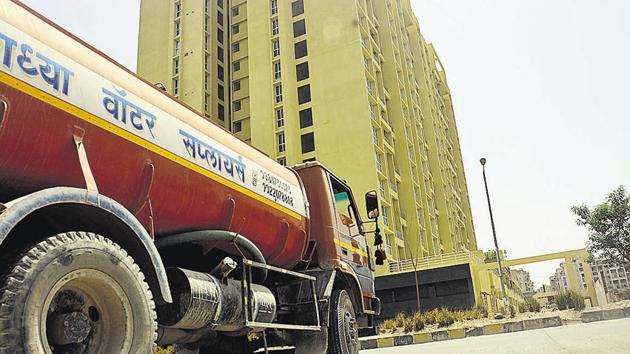 The association has now demanded the PMC to either stop collecting water tax from residents or provide free water supply. Deepak Patil, vice-chairman, Kharadi housing societies welfare association, questioned why Kharadi residents faced water crisis despite paying a huge sum as water tax.
"If PMC is incapable of providing water, then they should supply water free of cost to deprived societies. Purchasing water from the tanker mafias has costed 35 societies in crores," Patil said while showing the challans to the corporation officials.
Referring to the PMC water supply department , Patil said, "Who is going to pay that amount back to the societies? There was no clear answer to this from PMC officials. Officials had, back then, pointed out that once construction of water tanks and the Bhama Ashkhed project work was done, Kharadi area will get sufficient water. However, we are still under the dark as to what the PMC will do to alleviate the plight of the residents."
The PMC also faced criticism from the Kharadi housing societies association members when the PMC bagged an award for its Smart City water supply project a few days ago. PMC's Pune smart city development corporation limited (PSCDCL) recently won three national-level awards for three different projects at the Smart Cities India awards 2018.
"The PMC has made a laughing stock of itself by bagging the award for water supply under the Smart City project. Residents are crying for water in the city, while the PMC officials, obviously disconnected with the situation at the grassroots, are happily posing for photos and seeking glamour. The PMC is inept, inefficient and lacks planning and vision for water supply, to not only Kharadi, but the entire city," said Patil.
Meanwhile, representatives from other societies also questioned the PMC officials whether they have to keep buying water from private water tank operators.