Maha-Metro starts transplantation of trees in Pimpri area
Updated on Dec 30, 2017 06:24 PM IST
Five trees are identified in the first phase of relocation.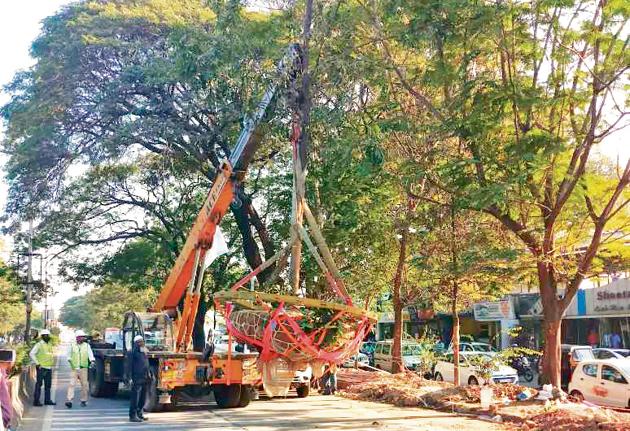 Hindustan Times, Pune |
Shrinivas Deshpande
With the Pune Metro Rail project progressing at a fast pace, the Maha Metro Rail Corporation Limited has undertaken transplantation of trees affected by the project in Primpri-Chinchwad area.
Maha-Metro, which has been given the responsibility of executing the Metro Rail project, has identified five trees in the first phase as a demo for transplantation. The agency on Thursday uprooted one tree from Kasarwadi and transplanted it in Vallabhnagar.
Earlier, Maha-Metro stated that maximum care would be taken by the contractors to avoid any tree cutting, while for large trees, the options included transplanting of trees and the fresh planting of five to 10 saplings for every tree cut." According to a survey conducted by Maha-Metro, around 135 trees will be transplanted in the Pimpri to Harris bridge area.
Maha-Metro official, on the condition of anonymity, told Hindustan Times, "We successfully completed transplantation of the first tree in Vallabhnagar area. It took us seven hours for proper transplantation. We will soon transplant two more tree in the same area soon."
Earlier, the Maha-Metro had expressed its inability to share details of the location of the approximately 685 trees that will have to be chopped for the project.
"The trees that we will plant across Pune and Pimpri-Chinchwad will bring down the emission of carbon dioxide by 137 tonnes per year. We are committed to protect our environment and provide citizens with the most sustainable transport solution," said Brijesh Dixit, managing director of Maha-Metro.
According to officials, Lansol Landscape Solution, a landscape division of the well-known Jagtap Nursery in the city, has used advanced technology and scientific methods transplanting 7 to 10 years old Mahogany tree. The tree transplantation process involves highly scientific and globally adopted specialised staff, said officials.
"This is a three to four months long activity. The operation required trained staff with high-end machinery operation. There are four steps for tree transplantation, which include canopy cutting, root pruning, root ball making and root ball lifting and transit."