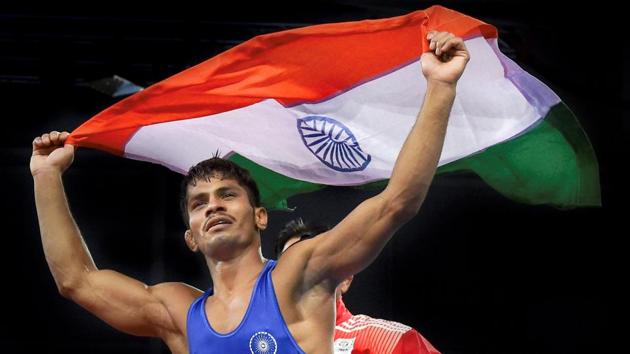 Pune's Rahul Aware grapples against all odds for CWG gold, sets eyes on Tokyo 2020
In a gripping final bout against Canada's Steven Takahashi, Aware won 15-7 to win gold, despite struggling with injury in the latter half.
Hindustan Times, Pune | By Ashish Phadnis
, Pune
UPDATED ON APR 13, 2018 03:46 PM IST
From long wait, injustice, rebellion and disciplinary action to Commonwealth Games (CWG) gold, wrestler Rahul Aware of Beed has come a long way. But the 26-year-old said that the podium finish at Australia's Gold Coast is just the job half done as his ultimate aim is a medal at the 2020 Tokyo Olympics.
"We can't sit quietly unless we fulfil our dream of winning an Olympic medal," said Aware's coach Kaka Pawar.
The young wrestler won gold at the ongoing Commonwealth Games in Gold Coast in Australia on Thursday. In a gripping final bout against Canada's Steven Takahashi, Aware won 15-7 despite struggling with injury in the latter half.
Rahul, a resident of Padoda village in Beed district, shifted to Pune to train under Rustum-e-Hind Harishchandra Birajdar at Gokul Wastad Talim in 2007. He also received support from Pune-based sports NGO Lakshya in 2008.
Speaking to Hindustan Times after winning the match, an emotional Rahul said, "I miss my mentor mama (late Harishchandra Birajdar) who was confident that i will win the Commonwealth medal. Today, I have lived up to his words but unfortunately he is not here to see my success. My coach Kaka Pawar has worked hard on me. He helped me get over my tough times and motivated me to perform better. I will start preparing for Olympics as soon as I land in India."
Rahul showed promising results by winning gold in the Youth Commonwealth Games in Pune in 2008 followed by Junior Asian gold in 2009. Continuing his fine form, he also grabbed silver in world juniors and was expected to win another medal in Commonwealth Games in New Delhi in 2010. However, he failed to perform in the selection trials and missed the opportunity.
Without losing hope, he trained hard for the next Commonwealth Games in Glasgow in 2014, but unfortunately the Wrestling Federation of India (WFI) didn't conduct the trials and sent a team based on their previous performances. Meanwhile, he lost his mentor Birajdar in 2012 and started training with another legendary wrestler Kaka Pawar in Pune.
If this wasn't enough, he hit the headlines for wrong reasons. The incident took place before the India camp for the Rio Olympics in 2016. Rahul was sure about his Olympic spot in the 57kg category, as he had emerged on top, beating his rival Sandeep Tomar in the final while another contender Vijay Dahiya had finished third at the selection trials held in Delhi, a month ago.
However, the Maharashtra wrestler was shocked when he realised that the WFI had processed his rival Tomar's visa for Mongolia, where the penultimate Olympic qualifying tournament was scheduled.
Alleging the association of being biased, Rahul returned to Mumbai, skipping the month-long training camp in Georgia. He also accused the selectors of favouritism. His rebellious move forced the association to initiate disciplinary proceedings against him and issue a show cause notice.
Many wrestlers still feel that Rahul could have done better than Tomar, who crashed out in the first round of Rio Olympics.
Talking about the incident, Pawar said, "It was an unfortunate incident. Rahul wasn't able to focus on his training but I told him to forget what has happened and move on. I feel that he never forgot the injustice meted out to him and was desperate to win the medal and prove his mettle. His burning desire and hunger for success is his strength and he will surely win an Olympic medal in 2020."
From a family of wrestlers
Rahul's father Balasaheb Aware was a reputed wrestler during his time and wanted his two sons to follow the legacy. The family even shifted to Beed for better training and both youngsters started training under the watchful eyes of their father. Birajdar noticed Rahul's spark at the state level contests and took him under his wings. After shifting to Pune, Rahul quickly learnt the technique of mat wrestling and started performing well at the national level.
"I have seen his graph right from his childhood. We come from a small village and now he has become an international figure, and the family is proud of him. Now we have one dream left, which is the Olympic medal. We are sure that Rahul can bring that glory to Patoda, our small village," said Rahul's brother Gokul.
Close