Pune colleges relive 'surgical' victory
Hindustan Times, Pune |
Prachi Bari
Sep 30, 2018 02:53 PM IST
Display charts, videos, talks by experts, army personnels were part of Surgical strike day events
Various colleges and educational institutes across the city organised events to mark the Surgical Strike Day as per a directive from the University Grants Commission (UGC).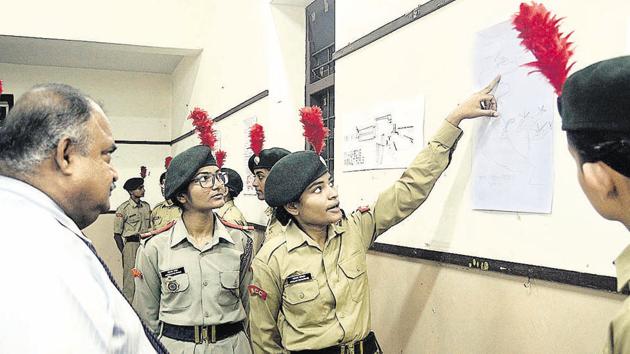 The recreation hall of Fergusson College was the centre of activity as NCC cadets huddled together and then took to positions with posters and charts explaining the meticulous way in which the Army carried out the strike.
"We had organised an exhibition of charts and videos to show how the Indian armed forces, very meticulously and swifty, carried out the surgical strike operations across the Line of Control in Pakistan-occupied Kashmir area by damaging seven terror launch pads and killing more than 50 terrorists to avenge the Uri attack," said Aishwarya Bhoji (FC NCC ).
"Indian armed forces have showed that we have enough of courage and strength to trash anyone who tries to infiltrate Indian borders. We live in peace because they protect our borders. By celebrating the Parakarm Parv, we will always cherish and remember the supreme sacrifices of soldiers for our future," she said.
The exhibition was inaugurated by Fergusson College principal Ravindra Pardesi in the presence of vice-principal NM Kulkarni and Major Shridhar Vankhate. The NCC students also interacted with other students about the strike.
Brihan Maharashtra College of Commerce (BMCC) decided to hold two events within their campus. "For Surgical Strike Day, we did not want to hold a formal function as we have noticed that students do not like it. Hence we divided the students with 95 second year students watching video clips of the surgical strike carried out by the Indian Army and another video on the conditions that the Indian Army works on to protect our nation. Meanwhile, 160 students from first year were engrossed in a lecture by the head administrator, senior scientist and gun expert, DRDO, Kashinath Deodhar," said Ashish Puranik vice-principal, BMCC.
At Abasaheb Garware college, Lt Colonel Pratul Mehta, a serving Indian Army officer from Assam and recipient of a gallantry award from the Northeast, said, "Fighting with terrorists and their sympathisers is not a normal task. There are some who often criticise the Indian Army and its counter operations, but our army takes utmost care of human rights. Our army does not violate human rights in critical operations, like surgical strikes."
The college principal Muktja Mathkari, head of journalism department, Vinay Chati, Lt Colonel Pankaj Karwande and students were present for the event.
St Mira's College also held a small function for the junior college students, while students from MIT and Symbiosis said that they did not have any event due to exams around the corner.
At the Savitribai Phule Pune University (SPPU), the department of defence and strategic studies held a function where Lt General Rajendra Nibhorkar launched three academic courses and said the nation is positive about the army action.