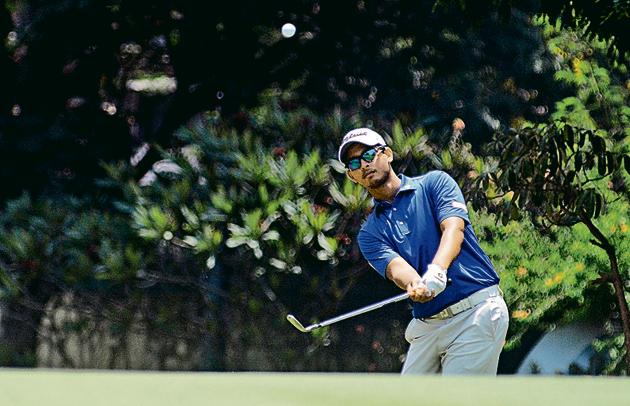 Pune Open Golf Championship 2019: Kshitij Kaul earns maiden Professional Golf Tour title
Yashas Chandra cards day's best score to finish close second
UPDATED ON APR 06, 2019 02:57 PM IST
Teenaged rookie Kshitij Naveed Kaul of Delhi, playing only his ninth event as a professional, displayed maturity way beyond his years to shoot a final round of four-under-67, to register a one-shot victory on the final day of Pune Open Golf Championship 2019 at the Poona Club Golf Course on Friday.
18-year-old Kaul's (69-67-66-67) triumph at the Poona Club Golf Course saw him close the week with a total of 15-under-269 and made him the third-youngest winner on the Professional Golf Tour of India (PGTI) tour, after Karandeep Kochhar and Shubhankar Sharma, both of whom won as 17-year-olds.
Yashas Chandra from Mysuru (68-68-68-66) carded the last day's best score of five-under-66 to finish a close second at 14-under-270 at the Rs 30 lakh event.
Kaul, the round-three joint leader, had a topsy-turvy final round as he struggled with his tee shots. However, the former India No. 1 in the junior and amateur category, managed to salvage the day with his brilliant short-game.
A bogey on the 16th didn't deter the 6-foot tall Kaul as he showcased his calm temperament and nerves of steel with a decisive birdie on the 18th, where he found the green in two and two-putted to avoid a playoff with the nearest rival Chandra.
Kaul, who became richer by Rs 4,84,950, thus climbed from fifth to third place in the PGTI Order of Merit. His earnings for the season now stand at Rs 11,59,650.
Chandra's bogey-free 66 helped him gain two spots and finish runner-up. The 2018 PGTI emerging player of the year had taken the lead on the final day when he made his fifth birdie of the round on the 13th. He missed a hole-in-one by one foot on the 13th.
However, Chandra slowed down thereafter with pars all the way till the end. He narrowly missed a birdie on his last putt, which stopped inches from the hole. A birdie there could've taken him into a playoff with Kaul.
Bengaluru's Syed Saqib Ahmed (70) and round three joint leader Shankar Das (72) of Kolkata took a share of third place at 10-under-274.
Pune golfers need to play more tourneys: Pathare
For Pune golfers, it turned out to be disappointing tournament as the six golfers who made it to the cut failed to deliver.
Pratik Nirmale and Pravin Pathare finished the tournament tied at 24th, while the other golfers finished as follows: Sagar Raghuvanshi (t-49), Akshay Damle (t-35), Sameer Shaikh (46) and Rajiv Datar (51). Pathare who had made it cut on his home course after four years felt more tournaments participation will help city golfers to improve his games.
"We need more tournaments and that is the only way our performance will improve. Playing tournaments is a completely different experience," explains Pathare.
The Pune Open Golf Championship which concluded on Friday also saw two golfers Kapil Kumar and Samarth Dwivedi equalling the course record of 63. "Pune golfers can also do this, but a lot of hard work, practice and mental preparation on a regular basis will help us to achieve that," added Pathare.
Close