Uterine transplant: Medical fraternity calls for framing of guidelines to prevent malpractice
Hindustan Times, Pune |
Nozia Sayyed
Oct 24, 2018 03:38 PM IST
On October 18, Asia-Pacific's first post-uterus transplant baby was born in Pune
The absence of clear guidelines, rules and regulations for uterine transplants in the country has come to the fore with nearly 600 women on the waiting list after the birth of Asia Pacific's first baby, born out of the first transplanted uterus of India.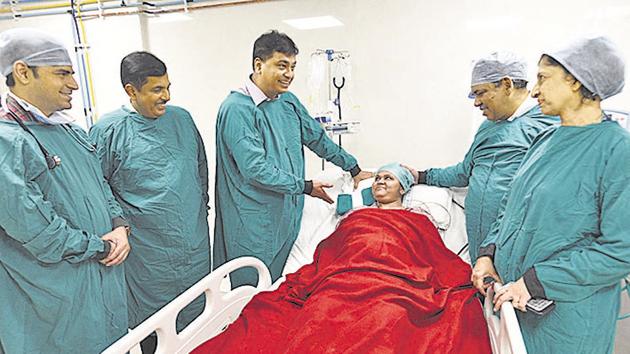 On October 18, Pune's Galaxy care hospital created history when Meenakshi Valand, a 27-year-old woman from Gujarat, became the first woman in the country to give birth to a baby from a uterus that was transplanted within her. The hospital has reported a waiting list of nearly 600 women wanting to get uterine transplants done.
Given the sudden spike in this demand, members of the medical fraternity, including the head of Maharashtra's health services, have called for the framing of proper guidelines to prevent malpractices that have plagued organ donations and transplants in the country.
Dr Vimal Bhandari, former director of National organ and tissue transplant organisation (NOTTO) and presently, senior surgeon, VVIP, PM House said, "We have experienced enough legal issues when it comes to organ donations and especially when it is a live donor. Recently, we exposed many kidney rackets in metros like Delhi and Mumbai. People have ways to prove that they are related but there are no specific rules for uterus transplant surgery. There are no guidelines that state any criteria for the patient, nor does it state whether a mother or sister can donate. These are the few things we feel should be addressed and hence a strong suggestion will be made to the director general, health services (central ministry) to look into this matter at the earliest so that further illegalities can be curbed and avoided."
On a similar note, Dr Sanjeev Kamble, Maharashtra state director of health services said, "We do not have clarity on uterus transplant in the state. Also, we do not know whether there is any committee that is approving such a surgery."
Dr Kamble said in view of the new precedent of birth from a transplanted uterus, there is a need "for an urgent revival of the guidelines related organ transplant (OT)."
He said the state health authorities will be writing to the central ministry "to give us clarity on how this transplant can be looked at, handled, what criteria can be included and what the donor and patient profiles should be and what precautions a hospital or a transplant centre should take."
When asked about the absence of guidelines, Dr Shailesh Puntambekar, director, Galaxy care hospital who successfully performed India's first uterus transplant, said, "We knew there would be criticism but we not only follow international guidelines that are popularly known as 'Montreal guidelines' but we also have our own polices which we have designed and have even shared them with the state. We are the only hospital in the country to conduct a DNA and human leukocyte antigen (HLA) typing test to prove whether or not the donor is related to the patient before approving them of the transplant and also whether their organs and tissues are compatible enough. It costs around ₹20,000 and to eradicate the illegalities and deal with the frauds we had even written to the state to make this test mandatory in every hospital. However we are not sure whether it is practised. But we do follow all protocols because this transplant is not only risky to the patient but also to the donor; hence making it a success is our aim. So far all the people on the waiting list have been verified through DNA and HLA typing and are verified related donors."
Speaking about the most important guideline, Dr Puntambekar said, "A Karyotype test must be done on a woman to make sure she is carrying the female chromosomes that is XX and not XY because sometimes a woman may appear female given her physical features but she can also have XY chromosomes which are male and hence may not be able to carry a baby."