Pune welcomes New Year with Gudi Padwa, Ugadi and Cheti Chand, the traditional way
Puneities ringed it the New Year as per the Hindu Calendar by celebrating Gudi Padwa, Ugadi and Cheti Chand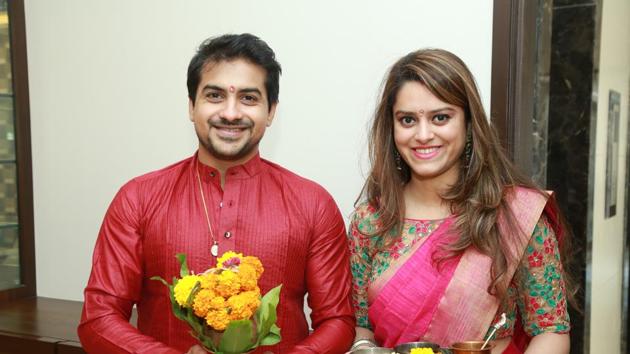 Updated on Mar 18, 2018 02:51 PM IST
Hindustan Times, Pune | By Anjali Shetty
Gudi Padwa
Gudi Padwa marks the New Year for Maharashtrians as per the Hindu Calender. It falls on the first day of Chaitra, which also calls open the spring season. Considered to be one of the three and a half days in the Hindu calendar, Gudi Padwa is celebrated with a lot of fanfare and pomp among families. The day begins with an oil bath followed by raising the Gudi before 9am, biting into jaggery and neem and welcoming the New Year. Traditional New Year foods are believed to usher in good luck. So, families gorge on sweets – be it sheera (Sajjige) or sakhar bhaat (sweet rice). Lunch again is a sumptuous affair though the favourite is either shrikhand or basundi. Anuja Amit Abhyankar said, "As it is technically the first year of the Hindu calendar, we clean our house one day prior, we get up early in the morning and get ready followed by putting up the toran (decorative door hanging) at the entrance of the house. A traditional rangoli is drawn at the entrance by the ladies in the family and the men help tie up the Gudi at a height. This is followed by a puja and Ganesh aarti. Of course, among all this, a group selfie becomes mandatory."
No happy occasion is complete without sweets and this festival in particular calls for combinations such as Shrikhand-Puri, Masale bhaat, Batayachi Bhaji, Varan Bhat and Kurdai. "As a child, my grandparents used to give us gathi, which I used to wear as a necklace, my brother and I would roam around the society collecting as much gathi as possible. I also remember, my parents used to make me eat neem leaves, since it was bitter I used to hate it. But now I realise that it has medicinal value. So our Gudi contains neem leaves as well," said Anuja.
Cheti Chand
Celebrated to honour the birth of Sindhi patron Saint Jhulelal and celebrated as New Year's for Sindhis, Cheti Chand is an auspicious day for the Sindhi community. The Dhalwani household welcomes the New Year every year with great celebrations, family time and kharchi (elders give money to the young ones at home). Peter Dhalwani, a businessman shared, "We celebrate it across three days which includes visiting the Jhulelal temple, attending the procession in Camp and participating in cultural programmes organised by the community. As children, too, my parents would make us celebrate the festival with the community, the idea was to learn togetherness and enjoy as one whole big family." His wife Neelam lays down the plates for the big Sindhi special lunch and said, "Every month, on the day of the New moon, we worship the taps and water outlets in the house. They say Jhulelal came out of water to save us, so we try our little bit to thank him through these gestures. And at the start of the year, we celebrate Cheti Chand, which also marks the start of the financial year."
From Kadhi chawal, Sai Bhaji, Tairi, boiled sautéed chickpeas, pakoras and papad, the feast is never ending on this day. Rajiv, son of Peter, added, "The New Year means coming together and celebrating with family. My uncles, cousins and grandmother all come home and we have a gala time. Food forms a major part of our celebrations. My grandparents give us kharchi and our favourite foods are made too. This apart, we are told tales about our ancestors and the significance of the festival."
Kaushalya, the oldest member of the family, said, "We remember and worship Jhulelal on this day. We thank him for keeping us safe and ask him to bless our loved ones. We conduct satsangs, langars and special programmes. One person dresses up as Jhulelal and we sing bhajans and talks about his good doings."
Ugadi
The Reddy household is abuzz with activity as they are preparing to form the flower muggulu on the doorstep. Akansha Reddy is patiently putting out the flowers as her husband Sudhir hands them over to her. The Reddys are preparing for one of their most important festivals of the year, Ugadi. Ugadi or Yugadi is New Year for Hindus in Karnataka, Maharashtra, Andhra Pradesh, and Telangana. Sudhir Reddy, founder, Reddy and Reddy Law firm, shared that the festival's name derives from the two words Yug and Adi which literally translates to new and beginning respectively. "Ugadi preparations begin much in advance with cleaning, putting up fresh mango leaves on the front door, buying new clothes and flower rangoli at the door step. Food plays an important part too as a traditional fare is served for family and relatives," Sudhir Reddy. According to ancestral stories, Ugadi is celebrated to mark Lord Brahma's creation of the world. Prayers are sung to worship the lord and everyone puts behind their sorrow and past and steps into the New Year with positivity and hope. "The day starts with an oil bath, eating of neem leaves, prayers and lots of traditional food. Elders blessings are received and we are recited the good deeds by our ancestors and saints," added Reddy.
He added that festivals are generally a way of spending time with the family and ensuring that each one is happy and content. "As a family we ensure to have at least one meal together on festivals. We discuss our plans for the year especially on Ugadi and also decide on resolutions."
Close Story