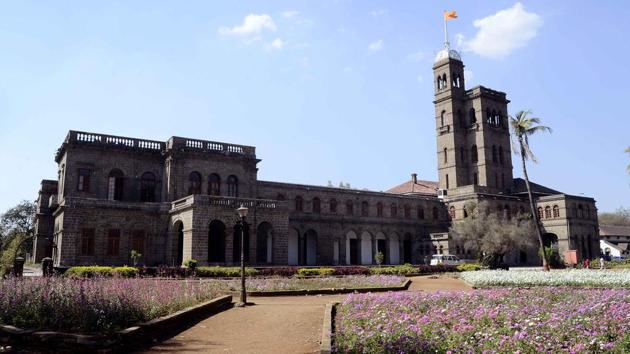 SPPU ranked ninth best university in India
Moves one spot up due to a subsequent increase in graduation outcome with a score of 84.55.
Hindustan Times, Pune | By Ananya Barua
UPDATED ON APR 03, 2018 10:18 PM IST
India Rankings 2018 for higher educational institutions has ranked Savitribai Phule Pune University (SPPU) ninth in the list of top 10 national universities across the country with a score of 58.24. Last year, it was ranked 10th.
The union minster for human resource development Prakash Javadekar, on Tuesday, declared the overall rankings at Vigyan Bhavan, New Delhi.
According to reports available on the official website, the varsity moved from number 10 to nine due to a subsequent increase in graduation outcome, earning a score of 84.55 in the same.
Vice-chancellor professor Nitin Karmalkar said, "It is a matter of great pride that SPPU has been recognised with high credentials on a national level proving that the university is moving towards high-quality education. It is the result of the efforts made by the entire team of the university. With this improved ranking, the university hopes to achieve the status of 'Institution of Eminence'."
Further, he said, "In addition to this, for being in the top 10 universities, we will also get Rs.100 crore under the RUSA (Rashtriya Uchchatar Shiksha Abhiyan) scheme. Also, we have seen an improvement in 'perception' category from a score of 11.20 to 15.04 which shows that people's view of the university is gradually improving."
These rankings by the National Institutional Ranking Framework (NIRF) serve as a prelude to the selection of institutes under the Institutions of Eminence scheme, based on their performance and reputation as educational hubs. Owing to this, the rankings have seen a steep rise of over 1,000 applications this year.
Hence, to encourage more research and development in higher education and take it to global standards, this year, the committee is said to have given the highest weightage of 40 per cent to research and professional practices category.
These rankings are based on five basic parameters: teaching, learning and resources, research and professional practice, graduation outcome, outreach and inclusivity and perception.
The NIRF rankings were declared under nine categories with a few new additions to the list. Apart from the categories - overall, universities, engineering, colleges, management and pharmacy - categories for medicine, dental, architecture and law colleges also joined the league for the first time this year.
Similar to Pune University, most of the top universities have seen a positive leap in terms of rankings, except Jadavpur University, Kolkata, which came down to the sixth position from the fifth rank id held in 2017. However, some have also managed to maintain their previous rankings, like the Indian Institute of Science (IISC), Bangalore, (Rank 1); Jawaharlal Nehru University (JNU), Delhi, (Rank 2); and Banaras Hindu University (BHU), Varanasi, (Rank 3).
"It is indeed a very fortunate day for us and the jump by one rank shows the kind of effort we have taken to improve the holistic educational experience at the university. One cannot single out a specific parameter, but it is the overall performance that matters. Also, as these parameters are similar to that under the Institutions of Eminence scheme, this win can be seen as a positive advancement towards our selection under that scheme," said SPPU registrar, Arvind Shaligram.
At the overall rankings, IISC continues to hold the first position, followed by IIT Madras and IIT Bombay on second and third position, respectively.
Close