Startup Saturday: 'Live' updates to help beat the clinic queue
Hindustan Times, Pune |
, Pune
Namita Shibad
Jun 23, 2018 07:35 PM IST
Sminq gives users real­time information about their doctor's appointment, allowing them to manage their time and avoid the long wait
Having to wait at a clinic is one of the most frustrating things in the world, at least that is what Sachin Bharadwaj, a city-based entrepreneur, felt when he decided to do something about the long wait times and streamline doctor's appointments in the city.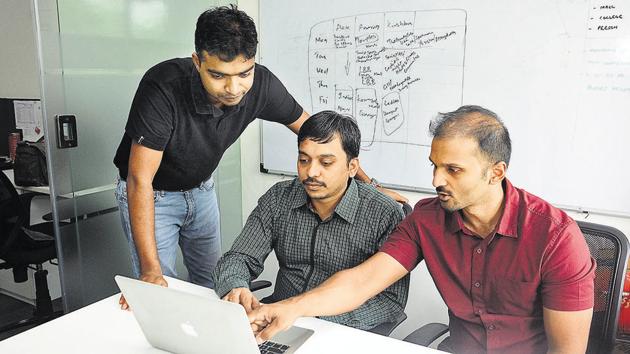 "When my child was born I was forced to wait for what seemed like hours at the paediatrician's clinic. I thought to myself as to what I can do to get rid of these long waits. This is why my friends and I developed an app called Sminqdocappointment," says Bharadwaj.
He adds, "Sheldon Dsouza, the co-founder, and I, sat for two weeks at Dr Udawant's clinic trying to understand how a clinic functions. Given the nature of the job, it is only natural that a doctor gets called in for emergencies and is forced to put his appointments on the back burner. This leads to delays for those who have appointments."
The problem for Bharadwaj, was to avoid inconveniences during such emergencies.
"One way to deal with it is through real-time alerts on the waiting time for patients. This app does precisely that. Using the app, a patient has can know the exact situation in a doctor's clinic. The information can be fed into the app by patients or receptionists at the clinic.This will allow patients to schedule their day and plan ahead accordingly, instead of having to wait at the clinic for hours," he said.
Bharadwaj, Dsouza, and Santosh Nagarajan, another co-founder, spent weeks at Dr Udawant and Dr Gupchup's clinic in order to better understand the nuances in running a clinic and the nature of the work.
This time was also invaluable for them in acquiring users for the new app.
"Around 40 per cent of the patients at the two clinics had begun using the app. For walk in patients, we send a message that wait times without appointments will be longer," said Bharadwaj.
The application is now spread across six cities - Pune, Mumbai Thane, Hyderabad, Nasik and Nagpur - in just six months after its launch. It has 150 registered doctors and over 15,000 customers.
To build this solution, the three entrepreneurs invested ~25 lakh. "I am a computer engineer and had earlier set up tastykhana, an online food delivery service. Tastykhana was bought by foodpanda for $30 million. So, we have a deep understanding of customer needs and how to address them. In 2016 we received $1 million from Sama Capital and Bloom Ventures. We have deployed this money to hire more sales staff, technical staff and office equipment," said Bharadwaj.
The doctor appointment app, however, is only a testing ground for Sminq. Bharadwaj aims to do more and go global. "We want to build an app that people across the world can use to share stories about the places they go to. Our lives are a product of the places we visit. So, wouldn't it be great if we could get real-time information on the different places we go to?"
The three partners have done just that. Be it a bar in Bangalore, a metro in Uganda or an office in Singapore, the sminqworldplaceslive app has 'live' information on your favourite places.
"The app will help drive traffic to commercial establishments. A bar can offer discounts on beer or run a promo and people can get 'live' information on these offers. If a bar is in Koregaon Park, any user interested in visiting the area will be notified about the bar and its offers. A rating system also allows people to rate the places they visit. The idea is to have places rated by users in real-time. Whether it is a pub, a historical place, an office. It can be just about any place."
Bharadwaj aims to use a rating system to drive advertisements. "Our revenue model for this global app is going to be based on advertising and being a platform for store sales. So if there is a post about a sale going on at Phoenix mall and someone likes it, we plan to facilitate that as well. Any retailer is happy to have several platforms to sell their goods. Which is what we will offer," said Bharadwaj.
How does Sminq intend to capture more users? "Largely by word of mouth. For such products it takes time. Even yelp took about four years to gain traction. We have started connecting with various groups on Facebook and Twitter and telling them that this app can give them real-time data on places.
So far we have got a very good response from Bangalore, Singapore, Hong Kong and Uganda. It will take some time and we are ready for it. Our target is to get 1 lakh users in one year," says Bharadwaj.
"Privacy is of paramount concern to us. After the Facebook issue it is very clear that if anyone wants to remain in business then they have to respect customers' privacy. On our app it is impossible to track anyone because every post is live only for 24 hours. User do not have to divulge their real name and can use any name they want. To ensure safety, the app asks for a mobile number to send a one time password which is used to authenticate a user," said Bharadwaj.
User reviews
"This Sminq app helps me plan my day. Earlier people would come at 6.30 am to my clinic and make an appointment list on their own and my receptionist would come in at 7 am. Arguments about appointments were frequent. The app has made things very easy. Patients can now make online appointments and receive live updates about it so they can time their visit accordingly. In this profession there are always emergencies that have to be tended to. These emergencies have to be accommodated along with the appointments. This app eliminates any confusion about wait times and keeps patients updated."
Dr Mangalmurty Bhalerao, paediatrician
"Earlier, if you wanted to see a doctor and had an appointment, you often ended up seeing the doc two or three hours later. Sminq has changed all that. You can book an appointment on the app sitting at home. My wife can take our six year old son to the doctor and I can make the payment sitting in my office. We also get live updates on the status of the appointment."
Sharad Pathak, father of a six year old
"Earlier I had to wait at a doctor's clinic for at least one and a half hours. Ever since I started using the app, life has become so easy. I can book an appointment on the app and do not have to rush to the clinic to see the doctor. I get live updates and can time my departure from home. As a result I have to only wait for just 10 to 15 minutes to see the doctor. Yes, sometimes I may reach a little late on account of traffic, but still hours are not wasted."
Monica Pawar, mother of an eight month old