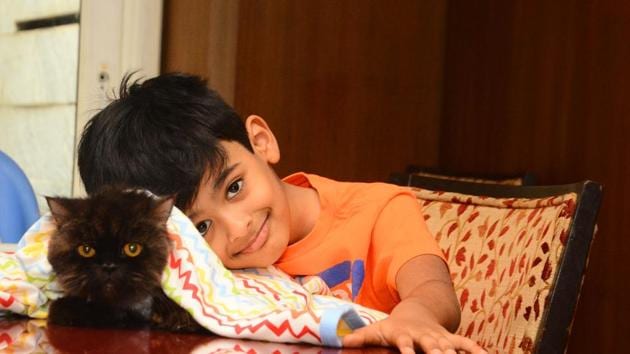 Thirteen-year-old Tortoiseshell Persian cat finds her way back home after 2.5 years
Bund garden resident Nadia Ansari's search for her Tortoiseshell Persian cat Amore, since December 2015, came to a bittersweet stop when architect Shambhavi Joshi found the feline in Bibvewadi
Hindustan Times, Pune | By Anjali Shetty
, Pune
UPDATED ON MAY 05, 2018 02:57 PM IST
Last week, Bund Garden resident Nadia Ansari received a frantic call from her mother-in-law Rakshinda Ansari stating that they may have found their pet, Amore. Amore, a Tortoiseshell Persian cat, went missing from their residence on December 16, 2015. Much to their surprise, the feline was found in Bibvewadi two and a half years later by architect Shambhavi Joshi.
An emotional and overwhelmed Nadia is still not able to accept the fact that her 13-year-old pet has been found. "Amore was the only smoked tortoiseshell kitten among a litter of white kittens. I picked her when she was three-weeks old in January 2005, in Bangalore. I brought her to Pune with me after I was married here. It was in December 2016 that we lost her from Bund Garden. I suspect she must have been picked up with the intention of breeding. However, we had spayed her, so I am assuming that after two years of trying the breeders finally abandoned her. That is how she must have reached Bibvewadi," says Nadia, who is now worried sick about Amore's health.
The feline was spotted in Bibvewadi near Shambhavi's building, who said, "I found a cat in my society parking and immediately circulated the picture on WhatsApp groups. My friend Mansi Deshpande put it up on PULA group on Facebook. Rakshinda aunty saw the pictures and called me. Nadia reached my building in no time and Amore immediately ran to her and rubbed herself on her legs; it was a touching moment."
Recalling the day, Nadia added, "Amore has been an important part of our family, so much so that she has travelled with us all the way to New York too, and not in the cargo. We had booked a seat for her. The reason I am telling this story is to emphasise how important she is to us. It is terrible to see her in this state, but I am glad we found her. She is still on an emergency diet and will take a while to recover. She has a fractured tail too."
Nadia shared that there are many behavioural changes in Amore and it is heartbreaking to see her suffer. "Persian cats are known for their attitude and poise. However, I see a completely new version of her now. She is timid and scared all the time," says Nadia.
Her five-year-old Daniyal Ansari was three when Amore went missing. He said, "I remember playing with her and I am glad she is back. She is weak now, but I am sure she will be fit and fine to play with me soon."
Close