Your space: PMC's Pay-and-Park policy needs to be debated by citizens
Updated on Mar 25, 2018 02:55 PM IST
Pune Municipal Corporation's proposed parking policy has sparked controversy and protests from political parties, amid fears over private parking monopoly. Here's what our readers have to say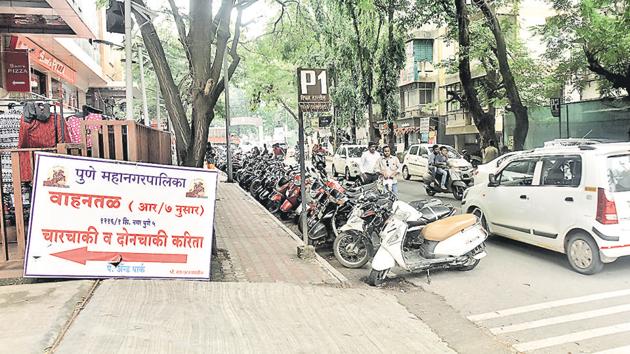 The pay and park policy of Pune Municipal Corporation (PMC) needs to be actively debated over a ear by the citizens and subject experts before being directly implemented in the city.
There have a number of examples where the financial decisions taken by the PMC have boomeranged resulting in the loss of money in unwanted projects. We must bring about a law where the citizens need to be compulsorily educated in civic awareness so that the elected representatives know that the electorate is aware about all the rules and regulations and also about the ramifications of their decisions.
Pay and Park policy must be such that it must not result in the creation of private parking monopolies holding the city to ransom. People with good character and conduct must be given parking contracts and their behavior towards the citizens must be courteous which is not the case today. Pay and Park is a sensitive issue and must be handled with care and alacrity.
Dr Anwar Shaikh
Pay-and-park scheme should be audited by citizens
Legal watchdog and auditing of the pay and park scheme by non corrupt people is the need of the hour. Today we are losing out space to the corrupt people who are looting citizens in the name of government schemes and welfare. In fact there is a need to put a complete full stop to the pay and park scheme as it will become a legal entity for the illegal people to enforce corruption on poor and innocent citizens of Pune.
The Anti-Corruption Bureau and Vigilance Department must be a part of the PMC administration to keep a strict watch on what is happening on ground. Police verification of each and every contractor must be done to control hooligans from controlling the streets of Pune.
Saleem Mulla
Number of vehicles in Pune needs to be controlled
Since civic awareness among citizens is low and people fear to speak up, there are chances that the contractors might become high handed and arrogant. The best thing would be to scrap pay and park scheme and instead bring about a ceiling on the number of vehicles being registered in the city. Pune cannot afford to have more vehicles as it's capacity to sustain is over. What we will be seeing in future is urban chaos and breakdown of human values in Pune due to excessive privatization and mindless decisions. Since there is no fear of watchdog, there is no fear for the private players who are into civic business.
Daljeet Goraya
Let us voluntarily discard use of plastic carry bags
Maharashtra State Cabinet's decision to ban plastic bags of all microns and items made of plastic and thermocol is most welcome, albeit much delayed. No doubt this should have come in 30 years ago. And most definitely should have been part of the Solid Waste Management Act 2016 but it was not. Now that an amendment has been incorporated by issuing a notification, the Government must stand firm and not retract due to pressure politics.
At this point, does anyone want to wonder why flexes, flags, banners, hoardings made of plastic are exempt from this ban even though they are harmful to the environment? Is it because political parties and elected members and their karyakartas use them extensively for free publicity?
The plastic manufacturers' lobby which has objected to the ban has a narrow view of how this ban will affect their own businesses. Instead of opposing the ban, they need to see this an opportunity to open up new horizons and create more jobs.
Has anyone considered the harmful effects of plastics floating everywhere in the air, water & land (in landfills, in storm-water drains, in water bodies, in the air) which will most certainly smother our elements and obliterate the very future of our children's environment?
Plastic material is not easy to recycle, so this is just dumped to float around in the environment to finally break into small pieces which then float into water bodies to be consumed by marine life, into forests to be consumed by animals, wildlife. One way or another we humans get affected by consuming these unhealthy marine organisms & fish, meats (note that this is not a discussion whether everyone should turn vegan).
More than 50 governments (after a recommendation by the UN Environment Programme) have banned plastic bags and their staff carries / uses bags made of environmental friendly material
Undoubtedly, it is human nature to reject / oppose any new idea at first. Instead of rejecting / opposing, why can we ourselves not learn to carry few folded recycled bags with us or keep a few in our vehicles?
Qaneez Sukhrani
Personalise your news feed. Follow trending topics