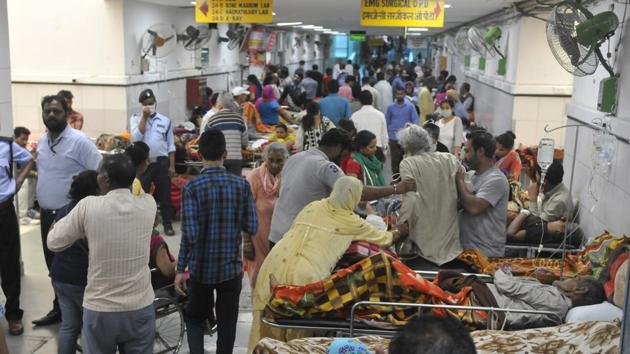 40% patients referred to emergency ward are on unwarranted antibiotic prescription: PGI study
In 2017, over 500 patients referred from adjoining states were analysed to find out how many of them were administered antibiotics, and more. 
UPDATED ON APR 05, 2018 02:14 PM IST
Over 40% of the patients referred to the emergency ward are on high-end antibiotics even as they "do not need any antibiotics", finds a study conducted by the Post Graduate Institute of Medical Education and Research (PGIMER).
In 2017, over 500 patients referred to the emergency ward of PGIMER from adjoining states were analysed to find out how many of them were administered antibiotics, how informative is the referral summary prepared by doctors while referring the patients, how rational or irrational is the prescription of antibiotics.
The study was conducted by Dr Vikas Gautam, Dr Samir Malhotra, Dr Vikas Suri, Dr Nusrat Shafiq, Dr Ashish Bhalla of PGIMER—all experts in internal medicine, medical microbiology and pharmacology departments.
Out of 517, as many as 300 patients were prescribed nearly 30 antibiotics. It means, nearly 60% of the patients referred to the emergency ward were already on antibiotics.
"Out of these, over 40% patients were no evidence of infectious aetiology. It means that perhaps these patients do not even need antibiotics," said one of the authors of the study.
Further, over 65% of 300 patients were on broad-spectrum antibiotics. "This is not advisable in every case as broad-spectrum antibiotics wipe out even healthy bacteria and what remains is multi-drug resistant bacteria, which can lead to escalation of the use of high-end broad-spectrum antibiotics. Basically, it's a vicious circle."
Another author said, "None of the patients brought along their culture-sensitivity report, which is crucial. Without a report, it becomes difficult for doctors to stop or modify an antibiotic. So, we conduct our tests and after 24 to 48 hours, we take the final call."
PGIMER preparing training course to educate doctors:
"The main problem of irrational use of antibiotics arises from doctors in peripherial areas. At PGIMER, we are working on an online course to educate doctors about the rational use of antibiotics. The course is almost ready and we are waiting for a grant to make it functional," said a doctor.
Changes brought in PGI after antimicrobial stewardship programme:
At PGIMER, a team of experts from microbiology and pharmacology hold elaborate discussions before prescribing antibiotics to patients suffering from complicated infections. In a week, at least 30 such cases are discussed at length. "PGIMER is the only institute following this practice. I have not seen any other hospital in north India where a team of experts hold discussions before prescribing antibiotics," said a doctor.
Earlier, after a surgery, a patient was prescribed antibiotics for as long as 5 to 6 days. But this practice has been largely curtained and now only a single shot of antibiotics is given.
The practice of double cover of anaerobes (giving two types of antibiotics during surgeries to check infections) has been stopped. Now, only one antibiotic is given.
"We are not being able to reduce the use of high-end antibiotics because infections caused by multi-drug resistant bugs are increasing in hospitals," said the doctor.
Close