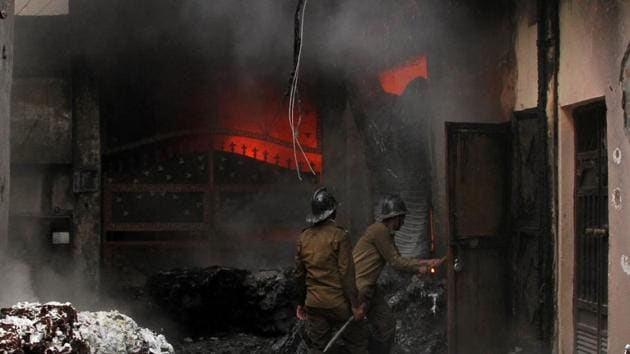 5 years in waiting, Ludhiana fire wing yet to get modern equipment
Report sent to government in 2012 had sought equipment worth Rs 90.6 crore, including 23 gadgets such as water tenders, generators and fireproof suits.
UPDATED ON APR 30, 2017 10:07 AM IST
Three days after a fire claimed three members of a family, including an eight-year-old girl, another major blaze destroyed a textile factory in Daulat Colony near Basti Jodhewal on Saturday. While the incident on April 26 put fire safety violations in godowns and factories under the scanner, this time the spotlight was on the pathetic state of the fire wing.
In the absence of proper equipment, firefighters wore handkerchiefs around their mouths to guard from the toxic fumes and their eyes turned red as they struggled to douse the flames at DG Kapoor Spinning Mill.
Read | Fire ravages another factory in Ludhiana, triggers panic in congested locality
The fire wing has awaited modernisation for five years now after a report to upgrade the department's equipment was sent to the government in 2012. However, the file is gathering dust as firefighters not only struggle to douse major fires across the city, but put their lives at risk while doing their duty.
The 2012 report prompted no response from the government. So far, the department has received only two fire tenders and masks, while the demand for equipment was pegged at Rs 90.6 crore for 23 different gadgets, including water tenders, hydraulic spreaders, generators and fire-proof suits, among others.
Assistant divisional fire officer Surjit Singh said masks were provided to firefighters but they wore it only when there was no oxygen in the area due to a fire.
Sources said there was a staff crunch and a lack of modern equipment at the fire wing.
"As the population increases along with vertical extension of city limits, there is a need to upgrade the department with the fire safety gadgets. Many fire incidents have been reported in different factories in the hosiery hub," said an official of the department.
The fire wing is ill-equipped when compared to the size of the city and its population. Fire tenders are sent for from other areas in case of a major fire in any part of the city. Even on Saturday, fire tenders were called from as far as Phagwara, Samrala and Khanna.
The report also states that the growing list of multi-storied structures, malls, and factories, has increased the chances of fire incidents.
Mayor Harcharan Singh Gohalwaria said all the factories should have firefighting material. "There is a lack of fire safety measures in these factories. We have received some equipment from the government, but have asked for further modernisation of the fire wing immediately."
Close