Artistic eye: Capturing different shades of womanhood in Chandigarh
Offbeat photo show explores femininity from Wolverhampton to mainland Punjab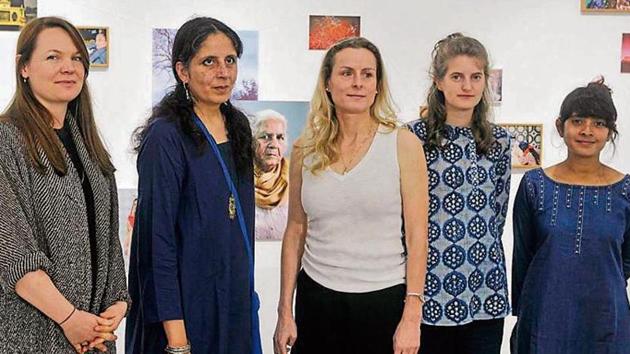 Updated on Mar 10, 2018 12:26 PM IST
Hindustan Times, Chandigarh |
, Chandigarh
Nirupama Dutt
The poster shows a lissom girl in the act of gazing through the mock glasses of her curved hand. Walk into the Punjab Kala Bhawan gallery and an ecstatic woman with a sheer veil does the sleeping beauty act on one wall, another woman with hair dyed blond and dark circles around her eyes looks through the bars of a window.
Move a little further and a mother is lulling her baby to sleep in one frame and the face of 'Chanda Mama' or 'Uncle Moon' has been created with the shimmering white beard of a benign turbaned man in sparkling black robes of the night.
The offbeat show is curated by photographer Iona Fergusson who has a special interest in South Asia. The show made possible by the British Arts Council and Creative Black Country revolved around 70 years of India's freedom by looking at the lives of its women who immigrated and those who stayed back.
Under the project, two Indian photographers Uzma Mohsin and Andrea Fernandes, and Jennifer Pattison and Jocelyn Allan from the UK, under a British Council exchange programme, have worked on the photographic exploration of India and her women in the modern day black country and contemporary Punjab.
Each photographer has dealt sensitively with the subject in telling her story and that of those she gazes at with creativity.
Recreating the lullaby magic
Jennifer Pattison recreates the magic of the lullaby in myriad ways. "I had a six-month old child when I was commissioned this project. So, I decided to explore a woman's world through the Punjabi lori which is so rich in imagery". The results are some enchanting photographs. She has also played alongside a video of famous actors including Nargis, Meena Kumari, Geeta Bali, Sandhya and even the likes of Shashi Kapoor as well as Mehmood in footage from Hindi films as well as song 'Chanda re Chhupe Rehana' from yesteryear film 'Lajwanti'. Glimpses of Hindi film songs, described by late theatre director BV Karanth as folk songs of the urban population of India, makes for a rare emotional connect.
Uzma Mohsin weaves her evocative photographs of women here and there, along with found pictures of their past in a subtle white thread and phulkari motifs, all white, to tell heart-rending tales of struggle and courage. Putting them under the name of 'Love & Other hurts' she says,"It is my attempt to make a psychological map of the lives of women and their experience over the last 70 years".
Andrea Fernandes explores her journey in India and abroad through landscape and life in subtle three dimensions held together by conversations with women.
Jocelyn Allen enters the world of girls and women with the dilemma of both being wanted to be seen and hidden taking a cue from Canada-based poet Rupi Kaur's lines: 'She wants love/she wants to be seen/but instead her veil hides her'. In this process she has clicked interesting work, of half hidden and half seen women. The exhibition will be on display till March 18 and then it will move to Jalandhar and later the UK.
Close Story
Personalise your news feed. Follow trending topics