Bargari heat: Pressure mounts on Captain Amarinder Singh to name former DGP Sumedh Singh Saini in FIR
The Bargari protesters have give the government a 15-day ultimatum to take action against those indicted.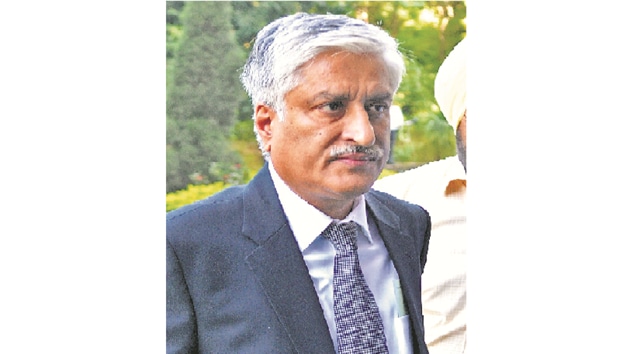 Updated on Oct 12, 2018 09:58 AM IST
After the protest march of Aam Aadmi Party (AAP) rebels to Bargari stole the Congress' thunder — mega rally at Lambi — pressure is building on Punjab chief minister Captain Amarinder Singh from within the party to book former state police chief Sumedh Singh Saini, who has been indicted by the Justice Ranjit Singh (retd) Commission for the police firing at Kotkapura on October 14, 2015.
The Bargari protesters have give the government a 15-day ultimatum to take action against those indicted.
The gambit of the ruling Congress to corner former CM Parkash Badal and his son and Akali Dal chief Sukhbir Singh Badal on sacrilege and police firing incidents had achieved the intended. It has also triggered an implosion in the SAD with senior Akali leaders openly questioning Sukhbir's leadership and forcing Badal out of his political hibernation.
But before the Congress could capitalise on it, party insiders say AAP rebel Sukhpal Khaira 'hijacked' the agenda by leading a march to Bargari, the ground zero of anti-sacrilege protests.
"The Badals have been exposed on their loyalty to the Panth. They will meltdown in the heat from within and outside the party. The Congress need not go after them legally. Now, Khaira and Sikh organisations protesting at Bargari are vying for the Panthic space created by the political demise of Akali Dal. But the Congress would be seen as wanting in both, strategy and intent, if it delays action on the report. Saini has to be named in the FIR to cool frayed tempers. The agenda was set by the Congress and it can't let Khaira and radicals walk away with it," a Congress MLA said.
Punjab Congress chief Sunil Jakhar said the government will take action soon. "Right from top to bottom, every Congress leader and worker wants action on the report. Khaira is simply trying to latch on to the issue," he added.
A section within the party is also questioning why the special investigation team was needed after a probe by a commission of inquiry headed by a former HC judge.
"Some Congress ministers were tacitly supporting the Bargari morcha but things seem to have got out of hand after Khaira made political capital out of it. Neither the Congress nor Badals could muster the numbers touted by them for their rallies in each other's bastions on Sunday. The Congress is jittery now and Amarinder will be forced to act," a senior Congress leader said.
Issue bigger than any party or individual: Khaira
Khaira denies that he led the march to further his political ambition. "We did it in interest of Punjab and its people who are angry at no action on sacrilege and police firing incidents. The issue is bigger than any party or individual," he says. Sources in the AAP rebel camp said they are not overestimating their strength and realise that the public support was also for the emotive issue. "But the success of the march has made it clear that there is space for a third front in Punjab," they added.
Dhian Singh Mand, parallel jathedar leading the Bargari morcha, also said no political colour should be given to their protest. "Ours is a religious, and not a political morcha. Several parties have supported our protest by participating in it, not only Khaira. The protest march was to show anger against rally politics of Amarinder and Badals to suppress the voice of people seeking justice," Mand said. Saini could not be reached for a comment.
Close Story