'Funds went down gutter of graft under Congress': Amit Shah at Jind rally
Amit Shah's jind rally: BJP chief says party will fight 2019 Lok Sabha, Haryana polls on plank of corruption-free governance, development.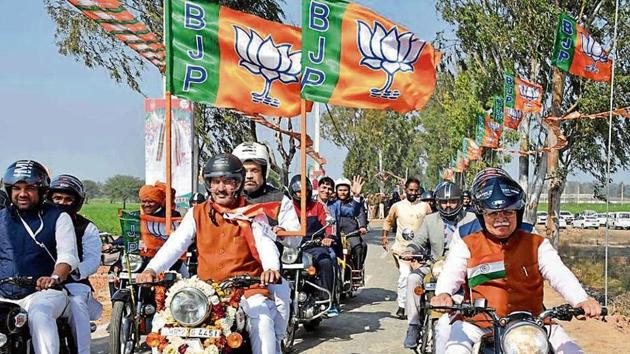 Updated on Feb 16, 2018 12:32 PM IST
Hitting out at the previous Congress government in Haryana over "rampant corruption", Bharatiya Janata Party (BJP) national president Amit Shah on Thursday praised the Manohar Lal Khattar-led government for "corruption free" rule, promising 'sabka vikas' (inclusive development).
Addressing the BJP's Yuva Hunkar Rally in Jind — nerve centre of the state's politics — Shah sent out a clear message that giving "corruption-free government" coupled with "equal and rapid development" across the state will be the party's poll plank in 2019.
At the centre of attack was former Congress chief minister Bhupinder Singh Hooda during whose government (2004-14), Shah alleged, central funds for Haryana "used to go down the gutter of corruption".
"Listen Hooda ji, I have come here with all accounts to be put before the people," he said.
During his 21-minute speech, the BJP chief brought under spotlight "corruption during Congress governments in Haryana and at the Centre", contrasting it with "development and corruption-free government" under the BJP. As the rally was a move to mobilise cadre of all 90 assembly segments for the 2019 Lok Sabha and state assembly elections, Shah said it was a matter of "huge honour" that the state BJP government had wiped out corruption.
"There is not a single allegation of corruption against the Khattar government…This is a big achievement," he said amid applause. Describing Haryana as the land of brave soldiers, hard-working farmers and sportspersons of international repute, Shah dwelt at length on the "pro-people" steps of both Khattar in Haryana and Narendra Modi government at the Centre.
'Beyond caste lines'
The BJP president, who reached the rally venue riding pillion on a motorcycle, alleged the Congress at the Centre and in Haryana worked hand-in-hand in looting the country of Rs 12 lakh crore through a series of scams.
"Haryana's contribution in Congress party's list of scams is beyond count," Shah said.
Under the BJP, he said, Haryana is getting Rs 34,000 crore more funds from the Centre compared to the Congress regime. "We are asked where this money is coming from? We answer that this money always existed. Earlier, it used to go into the pockets of friends and family members of Congress leaders. Now, it is going in the state funds," Shah said.
Applauding chief minister Khattar, Shah said he was the first-ever CM of Haryana to run a corruption-free government. "In a state where former CMs have been jailed for corruption, there has not been a single allegation against Khattar in last four years," Shah said. Listing out achievements of the Khattar government, he said it does not work on caste lines like the past governments and is dedicated to upliftment of poor and farmers.
Lauding the central government, Shah said it has given a pro-poor budget that will increase the life expectancy of citizens. "Earlier, poor were dying of minor illnesses in want of treatment. Our government has introduced ₹5 lakh health insurance for 10 crore families of the country," he said.
Shah said the BJP government was already in power in 19 states of the country, and the number would increase to 21 once the election results for two states are out on March 3.
Ended nepotism: CM
Addressing the rally, Khattar claimed that in past three years of his government, the state has been rid of nepotism, corruption and regionalism. "The state government has not only eradicated corruption and loot of the previous regimes which aimed at just filling their own coffers, but also kept a check on the transfer industry wherein transfers were effected through money power," he said.
The chief minister said he had visited all 90 assembly constituencies and announced development projects based on the area requirement. "Today there is no assembly constituency where development works are not being undertaken," he said.
Earlier, Khattar, many of his ministerial colleagues, party legislators and workers reached the venue riding motorcycles. BJP state chief Subhash Barala said party workers from 17,018 booths in the state attended the bike rally, while Union minister Birender Singh described the rally as "historical". Cabinet minister Ram Bilas Sharma said he had travelled over 200 km on a bike from Mahendergarh to the venue.
Close Story
Personalise your news feed. Follow trending topics