Datesheet clash across classes has Punjab govt schools in a fix
Declaration of examination datesheets for Summative Assessment-II for Classes 6, 7 and 9 from March 7 has led to a worry for government school principals, as multiple classes have exams on same dates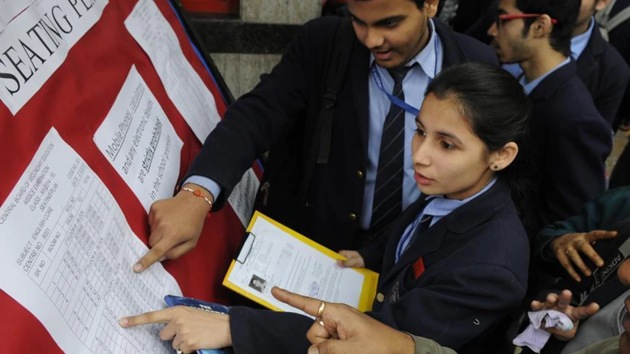 Updated on Feb 23, 2018 09:35 PM IST
Declaration of examination datesheets for Summative Assessment-II for Classes 6, 7 and 9 from March 7 has led to a worry for government school principals, as other classes too have exams on same dates. What exacerbates the worry is that a larger number of students from private school students are to appear at exam centres in state-run schools this time, as per an anti-cheating policy decision of the Punjab School Education Board (PSEB).
The first clash is on March 12, when is the English exam for Class 10 from 10 am to 1.15 pm; at the same centres, Classes 6, 7 and 9 have exams from 9.30 am to 12.30 pm. Then, on March 15, students of Class 10 will appear for their Punjabi exam, and Classes 6, 7 and 9 have exams too. And the schools further have to accommodate students of Class 5 as their examinations will begin from March 13 (9.30 am to 12 pm) with Punjabi. Then, students of Class 5 will appear in math on March 15 and English on March 19, making matters worse.
Several schools have written to the district education officer, secondary, in Ludhiana to provide extra staff to conduct the examinations, it is learnt.
At Government Senior Secondary School, Bija, Ludhiana, there are 10 classrooms; here, 548 students of Class 10 and 455 students of Class 12 will appear simultaneously for exams on February 28 and March 12. The school has around 250 students in Classes 6, 7 and 9 and can accommodate only 300 exam candidates. Principal Rakesh Kumar said, "We had written to the board not to make our school an examination centre as we don't have capacity. Even then, our school is a centre this year. Now we are making arrangements to accommodate students but it will be very difficult to manage."
However, at Government High School, Sarabha Nagar, the school can accommodate only 250 students, which is the strength of its Classes 6, 7, 8 and 9. The school headmistress, Kusum Lata, said, "I have contacted the district education officer (secondary) and asked her to provide us classrooms of the primary wing too. Without that, it will be very difficult to conduct the examination."
When contacted, PSEB secretary Hargunjeet Kaur said, "The examination are conducted for all the classes every year and school principals will manage. I don't think there will be any problem."
This time, 269 examination centres have been set up in Ludhiana district; of these, 142 are at government schools. However, last year, there were 286 centres in the district, of which around 100 were at government schools. The board has also increased the student strength at the centres at government schools.
Despite repeated attempts, the state's director general of school education, Prashant Goyal was not available for comment. He sent a text message saying he was in a meeting.
Close Story