Farmers stare at debt trap as cotton prices crash in Mansa
Updated on Oct 02, 2017 11:10 AM IST
Farmers claim that with yield (quintals per acre) dropping due to whitefly, they in fact need higher market prices to break-even.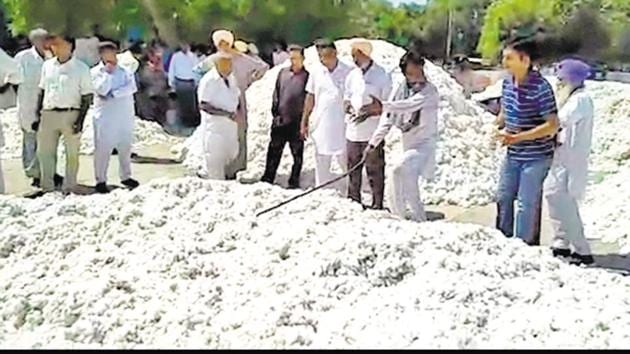 Even as farmers across the state are protesting against the non-implementation of the farm debt-waiver poll promise, cotton farmers in Mansa could join the list of loan defaulting farmers list with cotton prices crashing more than 15% over last year's rate of around Rs 5,000 per quintal.
Relatively poor quality of crop due to the whitefly pest attack and alleged collusion between privates buyers to depress prices have meant that most farmers are getting only between Rs 3,900 and Rs 4,300 per quintal for their produce in grain markets. The government-fixed Minimum Support Price (MSP) for cotton is Rs 4,220 per quintal.
Farmers claim that with yield (quintals per acre) dropping due to whitefly, they in fact need higher market prices to break-even.
"This year, the growth of cotton crop has not been normal due to whitefly. I grew it over 6 acres, but the yield has come of only 3 acres. We were straight away staring at a loss, and this dip in market rates has been a further shock for us," said farmer Bhog Singh from Bhamme Kalan village. The district has so far sold around 27,000 quintal of cotton crop.
The maths of the debt trap
A rough back-of-the envelope calculation shows that the per acre cost of getting the cotton crop to the grain market is around Rs 67,000. The usual average yield per acre (based on data over previous years) is 16 quintals an acre. So, considering the fact that farmer has only income from the crop and lives on his own expense during the roughly six months of the crop sowing and harvest period, he needs a minimum of Rs 5,000 per quintal rate to make ends meet (income of Rs 80,000).
A farmer from Talwandi Sabo, Natha Singh, substantiates this calculation. "We pay around Rs 40,000 to take one acre of land on lease, Rs 15,000 is the expense on pesticides and other minerals to save the crop. The total labour charges to pick the crop is Rs 700 per quintal. So, if the land yields 16 quintals (per acre) then, we spend around Rs 67,000 over six months on growing cotton over 1 acre. We need cotton rates between Rs 5,000 and Rs 6,000 per quintal," he said.
However, yield this year has been lower, touching even half of the 16 quintal per acre in some fields, so farmers are losing money. HT established this after talking to a number of farmers in the district.
"We will not have enough earnings from the cotton crop and hence debt will only pile up. For the wheat crop, we have to spend again. The future is bleak," said a disheartened farmer Ajmer Singh. The district has seen 500 suicides of farmers over the past three years.
Expect better rates: market committee
Market committee officials who oversee purchase in the grain market are optimistic that the price of the crop will surge.
"Last year, around 3.5 lakh quintal of crop was purchased in Mansa. The rates offered are lower than the previous year, but it will improve," said Manmohan Singh, secretary, Mansa market committee.
Personalise your news feed. Follow trending topics