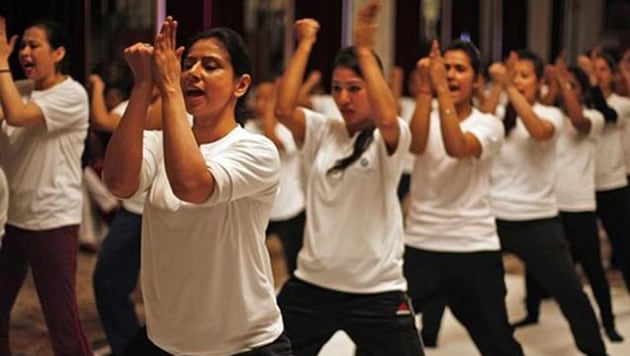 Female physical education govt teachers to get karate training in Punjab
They will further provide self-defence training to girl students of Classes 6 to 12 in government schools
UPDATED ON APR 05, 2018 11:41 AM IST
The Punjab education department has decided to provide self-defence training to 1,155 female physical education teachers of government schools across the state from April 9.
After the training session, these teachers will further train girl students of Classes 6 to 12 of government schools from July this year.
The idea behind the move is to enhance confidence level among girl students and to equip them with necessary skills to deal with crisis.
At present, the Union human resource development (HRD) ministry sends funds to state governments under the Rashtriya Madhyamik Siksha Abhiyan (RMSA) to provide free self-defence coaching to girl students of Classes 9 and 10.
Government school principals hire private coaches to provide karate training to students. But from this academic session, which commenced on Tuesday, the state authorities have decided to train their own female physical education teachers batch-wise. These teachers will teach self-defence skills to the students.
Prashant Kumar Goyal, director general, school education, Punjab, said, "Under the Rashtriya Madhyamik Siksha Abhiyan component, the Centre has been giving funds to provide karate training to students of Classes 9 and 10 for the past many years. To provide the training, we were engaging outsiders, but now we decided to train our own female physical education teachers so that they can provide the self-defense training to girl students of Class 6 to 12 during the school time only."
He added, "We are organising a refresher course in which teachers have been asked to report for training sessions from April 9 at the Regional Institute of Cooperative Management, Sector 32, Chandigarh."
The training will be conducted from 6 am to 6 pm. School principals have been directed to ask physical education lecturers, physical training instructors (PTIs) and diploma in physical education (DPE) teachers to report for the training session according to the schedule, he added.
Anita Gulati, principal of Government Senior Secondary School, Kundanpuri, Ludhiana, said, "In the face of rising crimes against women, this is an excellent move by the authorities as this way all girl students studying in Classes 6 to 12 will get trained for their own protection."
Close