HT Youth Forum 2018 l Young and hungry, they are raring to win
Updated on Oct 25, 2018 03:16 PM IST
Join HT as it traces the journey of these achievers to success.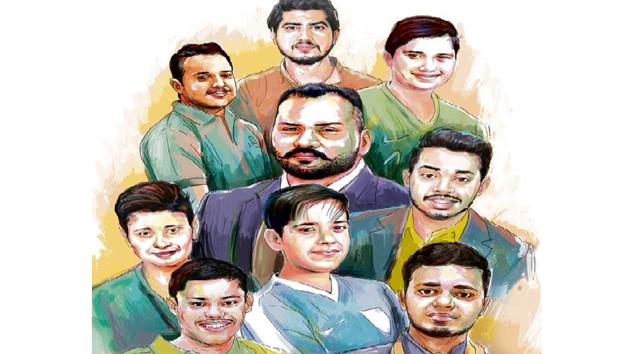 Six of the nine achievers we profile today are teens from dusty towns of the region. Most come from families hard up for funds, but their thirst for perfection and victory is all set to spur them on to the world stage. A 14-year-old has to pedal 50 km to reach her training ground, while a 16-year-old sees his father borrowing from friends to buy him pistols. But all this only steels them to do better than their best. Join HT as it traces their journey to success.
COACHED TO PERFECTION
Tejinder pal singh Toor, 24 , Shot-putter, Moga, Punjab
Because
The tall, burly players wowoed everyone by bagging a gold at the 2018 Jakarta Asian Games and set a new record in the shot put event.
Secret of my success
The love and support of my parents and coach, MS Dhillon, are responsible for my success. When you see your coach make personal sacrifices and work even harder than you to see you win, you are automatically driven to succeed.
I come from a family of farmers, and in the early days I was more interested in cricket. But looking at my physique, my father felt that I was more suited to shot put and I shifted to this discipline.
Also, I think I did well to train at Dharamsala instead of going abroad like many of my peers. I felt at home there and the weather too was perfect.
My goal next
I have set my sights on the 2020 Tokyo Olympics. I hope to do well there.
My role model
My role model is my father who supported me and motivated me to do my best despite suffering from cancer. American shot-putter Micheal Reese Hoffa is also a huge inspiration.
By the way
I enjoy shooting, playing cricket, and watching movies in my leisure time.
Second opinion
"Clinching a new medal and then making a new games record is not a small achievement. He has announced his arrival on the world stage with a bang and we expect many more podium finishes from him in the coming years."
–Bahadur Singh, national chief coach athletics, also a two-times Asian Games gold medal winner in shot put
FAMOUS AT FOURTEEN
Kavita, 14, Football player, Sadalpur, Hisar
Because
She was part of the India under-16 Football team that won the SAFF Cup held in Bhutan in August this year.
She was also part of the U-16 AFC qualifiers tournament held in Mongolia. She plays as the centre-back in her team and is known for her versatility.
Secret of success
In order to succeed one must play using the right techniques. Getting correct guidance is also vital. Self-confidence and the zeal to overcome difficult situations will take one far in life.
The goal next
I want to represent India in the next world cup.
My role model
I'm a die-hard fan of Cristiano Ronaldo. I love the power he packs in his game. One day I'd like to be able to play as well as he does. Among Indian players I hold Sunil Chhetri in high regard.
By the way
I love cottage cheese and ladyfinger and avoid junk food like the plague. Stuff like finger chips, burgers and chocolates have no place on my table. Instead, I incorporate a lot of fruit in my diet. Often, my friends poke fun at me for being so paranoid about what I eat, but I take it in my stride. I want to make sure that my diet also helps me to play better game of football. Foreigners often find fault with our diet.
Second opinion
"Kavita hails from a very humble background and she has to cycle around 50km daily from her village to the football ground for the morning and evening training. All this hardship has made her more determined and now she is the proud owner of an assortment of trophies and gold medals."
–Vinod Loyal, coach
THE FOCUSED TOPPER
Pranav Goyal, 17 JEE topper, Moga
Because
He topped the country in the JEE advanced and main exam 2018. He was also the tricity topper in the Class XII CBSE boards. He was the Indian National Chemistry Olympiad (INChO) and Indian National Astronomy scholar in Class XII. He was also the Indian National Physics and Mathematics Olympiad scholar in Class XI.
Secret of success
My teachers, parents, hard work and strong motivation to succeed. In this order. I am focused in all that I do. When I am in the class, I give it my 100 percent and never allow myself any distractions. Another big reason for my success in the competitive examinations is my speed. I am lightning quick at solv-ing problems in maths, physics and chemistry .
The goal next
I want to complete B.Tech from IIT Mumbai and then follow it up with a good job in the technology sector, preferably related to computers.
My role model
N R Narayans Murthy, the co-founder of Infosys. I take great inspiration from the way he set up his company from the scratch and how he continues to give back to society.
By the way
When not poring over my textbooks, I enjoy reading mythology-based fiction. My favourite author: Amish Tripathi. Favourite book: The Immortals of Meluha.
I also like shooting street life in Mumbai with my DSLR.
Second opinion
"He is one of the most hard-working and focused students I know."
–A teacher
YOU CAN'T GET PAST HER
Ritu Devi, 14 Fooball player, Sadalpur, Hisar
Because
She was part of the India under-16 Football team that won the SAFF Cup held in Bhutan in August this year. This young football player was also part of the under-16 AFC qualifiers tournament held in Mongolia. She plays on the defence position on her team.
Secret of success
Success can only be achieved with a combination of hard work and confidence. My parents' motivation and my coach's words of wisdom have stood me in good stead all my life. It is very important to be passionate about the game in order to succeed in it. I never skip training regardless of the weather or the state of my health. Fitness goes a long way in determining ones success.
The goal next
I want to be the world's best player. It is my dream to participate in the Olympics. I have started young and I think I can go places if I keep my focus and work hard.
My role model
I idolize Kaku ma'am, who plays left defence. I want to play as fiercely as she does.
By the way
Studies are very important for me. Mathematics and English are my favourite subjects. I found Priyanka Chopra's performance in Mary Kom very inspiring.
Second opinion
"She has a natural talent for the game. Both her brothers are defenders too. Earlier, she'd wait for a chance to play and but as soon as entered the field her talent shone through. She has repeatedly exceeded our expectations. She is very passionate about football."
–Vinod Loyal, coach
HE SHOOTS TO WIN
Udhayveer Singh, 16 shooter, Chandigarh
Because
He clinched gold in 25m pistol event in Junior World Championship held in South Korea in September this year.
Secret of success
The secret of my success is sheer hardwork. It is my passion for shooting that pushes me to succeed and do my best. The credit for my success largely goes to my coach Dalip Chandel who makes sure I train hard. He never lets me slack and has made hard work a habit.
My Goal Next
We have initiated a shooting event Rapid Fire. Making it a success is my immediate aim.
My Role Model
Lin Junmin and Zhang Jian from China, Jim Jongo. They are the best in the world. Their rapid fire is awe-inspiring.
By the way
I love hanging around with my friends. Swimming, cycling and listening to music are my other stress busters.
Second Opinion
"He was a blank slate when he came to me and was very receptive to corrections. He is hardworking and talented."
–Dalip Chandel, coach
THE CYBER WHIZ KID
Trishneet Arora, 25 Cyber expert, Chandigarh
Because
He was all of 19 when he founded his own IT security company. Javier Gonzales, mayor of Santa Fe, New Mexico, proclaimed August 25, 2017 as Trishneet Arora Day. This school dropout who left school in Class VIII was selected as one of the 50 most influential young Indians by GQ magazine and put on the cover page of The Forbes magazine this year. He was also declared a Leader of Tomorrow by Switzerland-based St.Gallen symposium. He has been honoured by the Entrepreneur Magazine and the Punjab government.
Punjab police and Reliance Industries are among the clients of his IT security firm called TAC Security. Arora has also written books on cyber security, ethical hacking and web defence.
Secret of success
Hard work and determination. It's essential for a firm to deliver more than what it promises and is capable of. There is always a scope to be better and I intend to always achieve that extra mile with the help of my team.
Your goal next
It is my dream to helm a powerful Indian cyber security firm that will have among its clients the most powerful countries of the world. I want to build a billion dollar cyber security company. The entire world is vulnerable to cyber attacks. I believe if there is a third world war, it'll be a cyber war and it's essential to make sure that we are ready and capable to handle such attacks.
My role model
I have two actually. Ratan Tata and Bill Gates. Tata is so humble yet he has taken his company to new heights. Both of them have a strong philanthropist streak as well.
By the way
I am very fond of reading. I quite enjoy sci-fi.
Second opinion
"He is a brilliant young man who is set to go places. I am proud of him."
–Harcharan Bains
HITTING THE BULLS EYE
Manish Narwal, 16 Para shooter, Faridabad
Because
Manish Narwal is a para-shooter from Delhi-NCR's Ballabhgarh. He is unable to lift his right hand since birth. He clinched three golds and a bronze at the World Shooting Para-Sport in Chateauroux in France. He has already qualified for the 2020 Olympics because of his brilliant performance.
A child prodigy, he used to play football as he loved the outdoors . But due to his disability, he could not play beyond the club level.
He took up shooting only in 2016. Seeing his flair for the sport, his father delved into his savings and bought him a pistol for ₹2 lakh.
Secret of my success
The credit for my success goes to my family that has always supported me. On days I feel like giving training a skip, it is my father's words which encourage me to go and give my best.
It is important to have a good work ethic to succeed. The encouragement from my parents and my coach Rakesh Thakur at the TenX shooting academy at Ballbgarh are a big reason for my success in this game.
My father Dilbagh Narwal runs a workshop manufacturing farm equipment but he has never cut corners when it comes to my equipment. Only recently, he borrowed a sum of ₹6 lakh to buy me two new pistols.
My Goal Next
I aim to win the gold at the 2020 Olympics. I am going to work very hard to make this dream come true.
My Role Model
Saurabh Chaudhary, who won the gold medal at the 2018 Asian Games in 10m Air Pistol is my role model. I think he is one of the best players in this field.
By the way
I am very fond of football and love listening to songs. Music gives me a big high. I have so many favourites that I would be hard pressed to pick one number that I like the most.
Second Opinion
"Manish is extremely focused which makes him a formidable opponent. I am very proud of his achievements as is every red-blooded Indian."
–Giriraj Singh, secretary general of Paralympic Committee of Haryana
FIERCE CONCENTRATION
Poonam, 14 Football player, Sadalpur, Hisar
Because
She was part of the India under-16 Football team that won the SAFF Cup held in Bhutan in August this year. She was also part of the U-16 AFC qualifiers tournament held in Mongolia. She is a mid-fielder for her team.
Secret of success
I am wherever I am due to my coach. One must have a passion for the game and the zeal to work hard to be successful. I am also very thankful to my parents for supporting me.
Most parents impose a hundred thousand restrictions on the girl child but my parents have always urged me to be the best version of myself that I possibly can. They have never tried to put any hurdles in my way.
The goal next
Our team is working very hard to bag the Subroto Cup.
My role model
My role model is Oinam Bembem Devi ma'am. I think there is no Indian player who can play better than her.
By the way
I am very fond of mathematics. Dangal is my favourite movie and the song 'Chak de India' always sets my spirits soaring.
Second opinion
"Poonam used to come to the ground to watch other girls play with fierce concentration when she was a little girl. I somehow knew she would do very well if she chose to play football. I remember she had created a fuss when she was assigned jersey number 17 but she has turned it into a popular number by her performance."
–Vinod Loyal, coach
Personalise your news feed. Follow trending topics