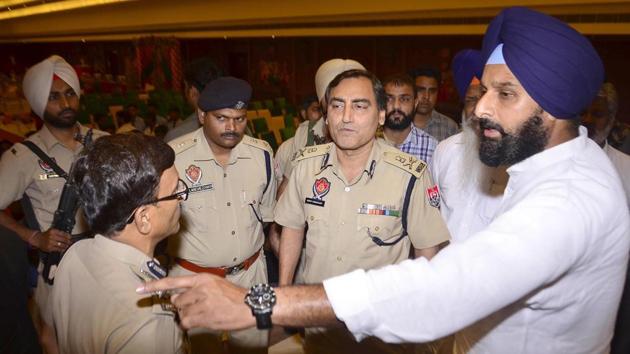 Majithia barges into ADGP's public meet to 'seek justice'; shoe hurled at ex-minister's car
Former Akali minister and Majitha MLA Bikram Singh Majithia confronts police official in his constituency, asks why he was not invited despite being local MLA
UPDATED ON MAY 20, 2017 09:02 PM IST
High drama was witnessed at a public meeting of additional director general of police (law and order) Rohit Chaudhary here on Saturday when former Akali minister and Majitha MLA Bikram Singh Majithia barged into the venue to "seek justice" for a Dalit family.
He also accused the Punjab Police of holding a 'Congressi sangat darshan' in Majitha.
When ADGP Chaudhary was about to address the gathering inside a marriage palace, Majithia and former minister Gulzar Singh Ranike entered the venue. Majithia went ahead and stood right in front of the stage.
The top brass of the police was taken aback by the development. Majithia was soon invited onto the dais and offered a seat. Amid all this, around 70-80 people present in the hall walked out of the venue in protest against Majithia.
Seeing this, Majithia stood up and told ADGP, "I am the local MLA. I am not invited. No Akali MC is invited. This walkout shows that you are just here to listen to only Congress workers and representatives. This is a 'Congressi sangat darshan' in the name of public meeting."
ADGP Chaudhary tried to pacify Majithia, saying it was just a public meeting. Majithia said he came there to seek justice for the Dalit family of Kashmir Singh who was allegedly beaten and threatened by some Congress workers last month just because he supported the Akali Dal. "The local police are not listening to his family members and rather harassing them on the instructions of the Congress," he charged.
The ADGP then asked a DSP-rank officer to look into the matter. But Majithia alleged that there were human rights violations in the case as the Dalit man was beaten after removing his clothes and the police were not bothered. Kashmir Singh was kept in illegal confinement by the police rather than acting against suspects, he alleged.
"Can you ensure justice? If action is not taken in this case, I will sit on a dharna along with Akali workers," he warned.
The former minister alleged, "What kind of law and order meeting is this where various Congressmen who face serious charges are sitting. This exposes the seriousness of such meetings."
ADGP Chaudhary refused to comment on the development.
Shoe hurled at Majithia's car
Things turned volatile when some people held a protest outside the venue and tried to stop Majithia's convoy of vehicles. Though the cops deployed there managed to give way to the convoy, one of the protesters hurled a shoe at Majithia's car.
Talking to the media later, Majithia said, "I went there to raise an issue of public concern. I was there to seek justice from ADGP for a Dalit family. But when I came out, an attempt was made to attack my vehicle. Things were thrown at it. Congressmen cannot scare me like this. I will continue to raise my voice."
He added, "It is shocking that police cannot ensure my security, especially when a senior police officer is there. What sort of public meetings are these where an MLA cannot go and raise an issue?"
Close