Moga sex scandal prime accused-turned-approver shot dead in Ferozepur
Sep 23, 2018 09:27 AM IST
She was among 10 accused in the sex scandal and became approver in the case after which she was released on bail in 2013.
The woman murdered along with her husband at Zira in Ferozepur district on Friday has been identified as Manjit Kaur, who was the prime accused-turned-approver in the Moga sex scandal involving police personnel and politicians.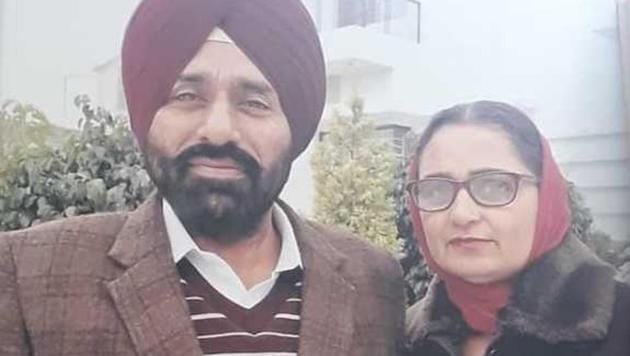 MS Chinna, the inspector general of police, Ferozepur range, inspected the spot and confirmed that the murdered woman was Manjit Kaur, 45. She was among 10 accused in the sex scandal and became approver in the case after which she was released on bail in 2013.
"Manjit changed her identity to Prabhjit Kaur and started living with her husband, Rajpreet Singh, 47, who was a landlord, at Pandori Khatriya village in Zira. She was eight months pregnant," a police official said on condition of anonymity.
The official said four bullets were pumped into the heads of the two victims from a .38-bore gun, a prohibited weapon usually available with the armed forces.
The three masked assailants seemed to be insiders. They had done a recce of the house and taken away the CCTV recording of the crime.
"Though their faces were covered, they were spotted in other CCTVs in the vicinity. We have strong clues and will crack the case," Chinna said.
The victims were married for 20 years and owned 11 acres. Their sources of income are also being investigated.
Chinna formed a four-member special investigation team, comprising the Ferozepur SP, investigation, DSP, Zira, DSP, Ferozepur city, and SHO, Zira. The SIT will work under the supervision of the Ferozepur SSP.
Scandal of 2007
In 2012, charges were framed against Barjinder Singh, alias Makhan, the son of a former Punjab minister, Tota Singh, then Moga SSP Davinder Singh Garcha, SP Paramdip Singh Sandhu, DSP Raman Kumar and station house officer Amarjit Singh besides Manjit Kaur, Sukhraj Singh, Karamjit Singh Bath and Ranbir Singh, all residents of Moga district.
Four policemen were also charged under the Prevention of Corruption Act.
The CBI arrested Garcha along with Sandhu and charged them with blackmailing influential persons from whom the major share of money went to them.
All accused in the case are out on bail.
The immoral trafficking scandal hit the headlines in 2007. Two women, Manpreet Kaur and Manjit Kaur, in connivance with the police officers and Barjinder extorted money from influential people by threatening to frame them in sexual abuse cases if they refused to pay up. Several prominent businessmen of Moga were blackmailed. The scandal came to light after a victim of the extortion racket made it public.