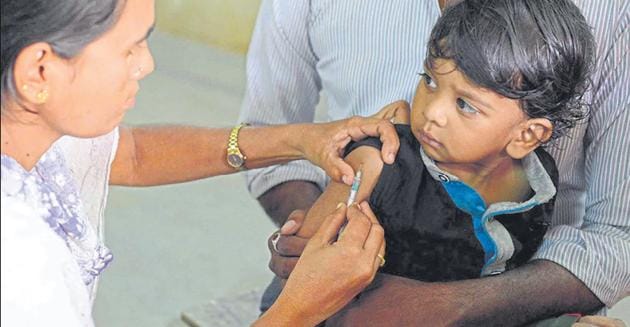 MR vaccination in Doaba: Immunisation drive fails to achieve target on Day 1, docs blame rumours
Campaign marred by fake viral messages and videos on social media warning it may have long-lasting effects on kids' health.
UPDATED ON MAY 04, 2018 01:12 PM IST
The measles-rubella (MR) vaccination campaign that began amid much hype by the state government failed to achieve its target in the Doaba region on its first day. Courtesy: The viral messages and videos on social media sites, which had been stating that the injection could result in children being impotent later in their lives or damage their brain cells.
The campaign to administer MR injection, which is similar to the MMR (measles-mumps-rubella) vaccine, is a project of the World Health Organisation (WHO) which aims at eradicating this deadly disease among children from the age group of nine months to 15 years.
The drive started on Tuesday and will continue till May 25. It will cover all children, including those of government and private schools, anganwari centres and outreach centres.
As per the data from the Jalandhar health authorities, 450 vaccinators deployed to immunise children failed to reach even 50% mark of the target on the first day, as only 16,223 children were immunised on Tuesday against the target of 40,000.
The situation was similar in Nawanshahr as only 7,268 kids were administered the vaccine against the target of 30,000. As many as 18,857 children were immunised in Hoshiarpur and 6,024 in in Kapurthala district against the target of 17,000.
Meanwhile, the campaign was not organised on Wednesday due to 'Mamta Divas', a similar immunisation day observed every week at all government hospitals dispensaries.
Campaign's nodal officer Dr Preet Kawal Singh said the rumours about the injection which went viral on social media affected the campaign on the first day as parents of children, especially those studying in private schools, did not consent to vaccination.
Dr Kawal said, "Following the rumours, many private schools also denied administering the injection to their students. But only after we made them aware of zero side effects of the aforesaid immunisation, they approached us."
"We hope that on Thursday, we will get a better response from parents and private schools," he added.
He also said this injection was similar to the MMR vaccination, which parents used to purchase at higher rates from private hospitals and only 'mumps' component from the injection was removed.
Nawanshahr's district immunisation officer Dr Davinder Dhanda said many as 16 private schools in Nawanshahr denied permission for the vaccination. "At one of the schools, parents even staged a protest against this drive," he added.
Awareness committee formed to counter propaganda
Deputy commissioner Varinder Kumar Sharma has constituted a committee of health and education department officials to create awareness among people about the misleading campaign against MP vaccination.
DC said some anti-social elements have initiated a 'slanderous' campaign against the immunisation drive on social media. "To counter the deceptive claims, a committee has been constituted. For any inquiry about the vaccination, people can call the committee members," he added.
The committee comprises of Dr Satish Kumar (98720-05064), Dr Rishi Sharma (94140-22262), Dr Kamalpreet Singh (99880-26207) and Kirpal Singh Jhalli, information officer of health department (98154-48759).
The DC also appealed the people, especially parents, to be aware of the false facts and ensure that their wards get immunised by the health officials.
Close