No-vending zone: Remove vendors from Sector 17, Chandigarh admn to MC
MC house overruled: Admn sticks to its stand on no-vending zone, also restricts vendors in Sec 19, 22 to 150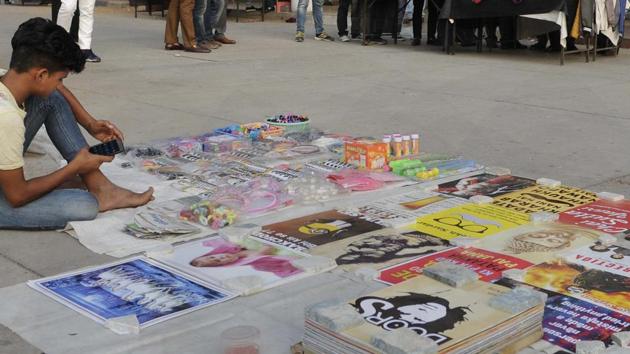 Updated on Nov 04, 2017 12:47 PM IST
The UT administration on Friday clearly stated that Sector 17 will remain a no-vending zone while the number of vendors in Sectors 19 and 20 will be restricted to 150 each under the Street Vendors (Protection of Livelihood and Regulation of Street Vending) Act, 2014.
According to a survey conducted last year, there are around 1,000 street vendors in Sector 17. In Sectors 22 and 19, the numbers stand at 1,800 and 650 respectively.
The Act, which aims at registering and rehabilitating street vendors and saving them from exploitation at the hands of enforcement officers, also calls for proper rationing of urban streets and spaces.
The final decision, which was taken in a meeting held on Friday under the chairmanship of UT home secretary Anurag Aggarwal, has come as a major setback to the municipal corporation (MC) councillors, who in the House meet held in September had passed a resolution that Sector 17 should be declared a vending zone .
'Find place for rehabilitation'
Besides directing the MC commissioner to remove illegal vendors from Sector 17, Aggarwal has also asked the UT architecture department to identify the places in neighbouring sectors to relocate these vendors.
"We will be directing the enforcement department to remove these vendors from the sector soon," MC additional commissioner Uma Shankar Gupta, who attended the meeting, told HT.
The meeting was also attended by MC commissioner Jatinder Yadav and UT chief architect Kapil Setia.
The development comes a week after the traders in Sector 17 began protesting against these vendors. It was in May this year that the architecture department had declared the congested Sectors 17, 19 and 22 as no-vending zones.
Meanwhile, mayor Asha Kumari Jaswal said she will take up the matter with the UT administrator, VP Singh Badnore. "Declaring Sector 17 a no-vending zone is not feasible on practical grounds," she said. "It is strange that the administration has also restricted the number of vendors in Sectors 19 and 22."
Close Story