On biz bigwigs date with Punjab, Badals do some hard selling
Oct 29, 2015 09:54 AM IST
The SAD-BJP led Punjab government, despite its recent internal setbacks, got big thumbs up from country's business magnates, who hailed the state's model of attracting investment. A galaxy of top business, banking and industry honchos, who descended on the International School of Business (ISB) campus here for the second edition of the
The SAD-BJP led Punjab government, despite its recent internal setbacks, got big thumbs up from country's business magnates, who hailed the state's model of attracting investment. A galaxy of top business, banking and industry honchos, who descended on the Indian School of Business (ISB) campus here for the second edition of the Progressive Punjab investor's summit were also all praises for the "undying spirit" of the Punjabi entrepreneur as central to the state's progress.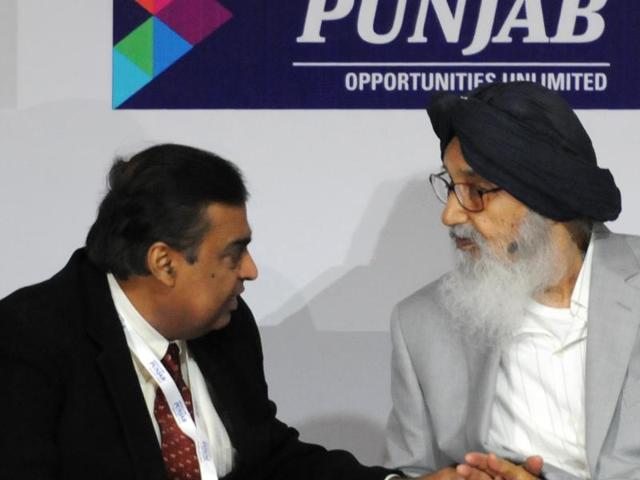 Announcing over Rs 1.12 lakh crore worth of committed investment from 376 companies with a potential to create 2.5 lakh jobs, chief minister Parkash Singh Badal said he was offered a 'blank cheque' in terms of attractive incentives and concessions to facilitate huge investments in the state.
Stay tuned with breaking news on HT Channel on Facebook.
Join Now
Highlighting the state's achievements, deputy chief minister Sukhbir Singh Badal declared Punjab an input tax-free zone for setting up agro-food processing units. He said this included the value added tax, central sales tax and purchase tax. He added that Punjab as a power-surplus state was offering electricity at the cheapest industrial rate of Rs 4.99 per unit in the country. Sukhbir said the state had established a conversion rate of 60% on the memoranda of understandings (MoUs) signed during the last summit in 2013. He said Punjab had received an investment of Rs 41,187 crore against MoUs worth Rs 63,000 signed in 2013.
Presiding over the inaugural session of the two-day summit, CM Badal "requested" business houses to "help" the state to move forward. Recounting the contribution of Punjabis in the freedom struggle and later in making India food secure, Badal said the state deserved every bit of encouragement to do better "Punjabis have stood by the nation and the nation should stand by them," he said.
Reliance industries chairman Mukesh Ambani, who was also present at the first such summit in 2013, said the Badal government has translated words into action. "Punjabis have a big heart and that is what drives investment. My father Dhirubhai used to say 'I am a Gujarati Punjabi.' He was a Gujarati with a Punjab heart," he said.
Joint managing director of HeroCorp Sunil Kant Munjal said Punjab has achieved the top position in the ease of doing business according to a recent World Bank report. The state, however, should work towards improving its position in other related sectors. "For us, Punjab is home. The Punjabi spirit is in a transformational mode. Full marks to the government for encouraging industry," he said.
"I'm the daughter-in-law of Punjab," said Chanda Kochhar, chief executive officer of the ICICI Bank Limited while referring to her Punjabi husband. Announcing a host of expansion plans for Punjab, including the setting up of a skill development centre for women, Kochhar said these were "gifts" from a daughter-in-law to the daughters of the state.
SP Oswal, who is heading the Vardhman Group of Companies, said the people of Punjab are "productivity conscious" and have the right attitude needed for progress. "They are not exploitative and that is what makes them unique," he said.