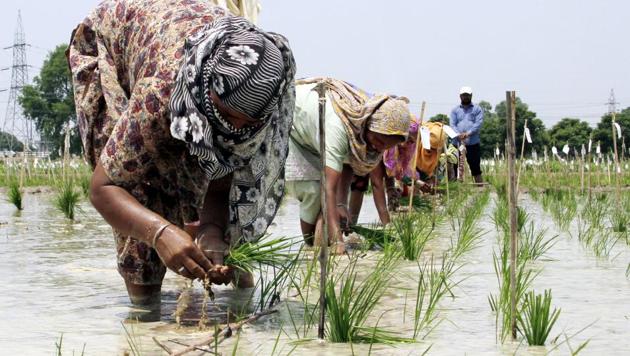 Paddy sowing row: Why are farmers and govt on collision course?
As farmers in some pockets (Muktsar, Rampura Phul, Talwandi Sabo, Sunam and Bathinda) have defied the orders by transplanting paddy before the announced date, the government has ordered uprooting.
UPDATED ON JUN 14, 2018 10:11 AM IST
On recommendations of Punjab Agricultural University, the state government has fixed June 20 for start of paddy transplantation this time, postponing it by five days vis-a-vis last year. This has ignited opposition from farmers, but the government is acting tough on those who are transplanting saplings into the water-filled fields before the announced date. Officials of the agriculture department, assisted by police, are flattening such fields and have threatened to cut off power connections to the tubewells. HT dissects the issue:
Why is government insisting on paddy sowing only from June 20 and not before?
The main objective is to save subsoil water, says the government, which this year, too, has set a target of 28.5 lakh hectares under paddy. Punjab Pollution Control Board (PPCB) chairman Kahan Singh Pannu says that the postponement (from June 15 last year to June 20 this time) will save 24 lakh million litres of water, which farmers would have otherwise pumped out through 14 lakh tubewells in five days.
Why are farmers up in arms?
Farmers are apprehensive that the five extra days will lead to delayed maturing of crop and fall in yield; and then the grain will have higher moisture content (than the acceptable norm of 17%), making it difficult to sell. "The paddy variety PUSA-44 grown by most farmers in the state takes 130 days to ripen. If transplanted on June 20, the harvest will be delayed till late October, when the night temperatures falls," says Balbir Singh Rajewal, president of a faction of Bharatiya Kisan Union.
How will the decision to delay the kharif crop impact sowing of rabi crops?
Farmers fear the delay will tinker with the cropping pattern — wheat sowing, for which the ideal period is November 10-20, will too get delayed. "Delayed paddy harvest leaves even shorter window for rabi crops. Potato is sown in mid-October; but, with paddy still in the fields, the farmers can't sow potato," says Rajewal. In 10 years from 2008, paddy transplantation has been pushed by 10 days. In 2008, the state government mandated through a law not to sow paddy before June 10. The PAU vice-chancellor has said the plan was to start transplanting paddy by July 1, when the monsoon sets in so as to use rainwater.
Are shorter-duration paddy varieties available?
Contrary to what farmers say, PAU says it has developed two varieties that grow in shorter durations and consume less water. "PR-126 has four-week shorter growing span. The other is PR-121 that has a span two weeks shorter than PUSA-44," says PAU V-C BS Dhillon. He rejects PUSA-44 variety as "redundant". Pannu says, "In the debate, we shouldn't forget that the effort is to save subsoil water which is receding by 2.5 feet every year. The farmers should support the government on this."
How is the government tackling defiance by farmers?
As farmers in some pockets (Muktsar, Rampura Phul, Talwandi Sabo, Sunam and Bathinda) have defied the orders by transplanting paddy before the announced date, the government has ordered uprooting. Farmers also have to pay penalty of Rs 10,000 per hectare. The agriculture directorate has asked the Punjab State Power Corporation Limited (PSPCL) to snap connections of tubewells owned by the defiant farmers. Farmers have launched protests and are demanding 12-hour power supply for tubewells.
How are politicians reacting?
Main opposition Aam Aadmi Party has not taken a stand, while Shiromani Akali Dal's president Sukhbir Singh Badal, a former deputy chief minister, has called the postponement "a government conspiracy to save subsidised power". The state gives free power to farm tubewells, and thus wants to limit their use and instead have the rainy season take care of paddy's water needs, it is argued. Sukhbir further says that the state government is only concerned about its benefit and not of the farmers, "who will lose out because of higher moisture due to delayed harvest". So far, the government has not reacted to Sukhbir's contention.
Close