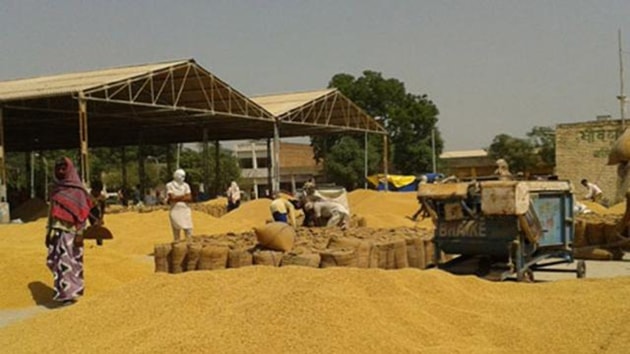 12 officials under scanner as Rs 40-crore paddy goes missing
Scam came to light when Amritsar rice mill owner was found missing with 400 truckloads of crop.
Hindustan Times, Chandigarh | By Gurpreet Singh Nibber & Surjit Singh
UPDATED ON APR 05, 2018 11:36 AM IST
As many as 12 officials of the food and civil supplies department have come under scanner in connection with an alleged scam wherein paddy worth Rs 40 crore went missing from a rice mill in Amritsar.
The scam came to light on Tuesday after rice mill owner Veeru Mal was found missing with 400 truckloads of paddy.
The food and civil supplies department has suspended Amritsar district food and supplies controller (DFSC) AP Singh and moved a case to seek permission of the government for a vigilance probe against the staff based in Amritsar that allegedly failed to check the embezzlement.
The missing paddy was sent to Mal's mill in the kharif season of 2017, but on checking it was found missing.
The food and civil supplies department is carrying out a physical inquiry at its bases in Amritsar and names of 12 staffers have emerged who could be responsible for the huge loss to the department.
Anandita Mittra, director of the department, said, "The physical inquiry is on to find out the exact quantity of the consignment that went missing. As far as the names of staffers who failed to check the embezzlement, are concerned, it is sure that there were supervisory lapses that paved the way for the embezzlement. In the investigation, it would be checked whether they were involved in the wrongdoings."
The director said they would know the exact loss of the paddy on Thursday when the physical inquiry will conclude.
A team of food department, led by additional director rice Amarjit Singh, was in Amritsar to investigate the shortfall. Singh said there are a large number of godowns owned by Veeru Mal, which were checked and it was found that 400 truckloads of paddy was missing.
The said rice mills have also obtained a cash credit limit of Rs 200 crore from Punjab National Bank (PNB). It came to the notice of the bank officials and the food department after they found that the mills don't have the required stocks.
PNB general manager PS Chauhan confirmed that the owner, who is now absconding, has taken Rs 200 crore cash credit limit and said, "We are moving against the miller legally and will take possession of the property which has foodgrains and machinery as collateral."
The bank officials on Monday also asked the Amritsar police and local administration to take control of the rice mills as their owner couldn't be found at the known addresses.
"Our directions were clear that a miller can't pledge the foodgrain stocks, but in this case he went against regulations. So, we are moving for an action against him," said a food department official, on condition of anonymity.
Close