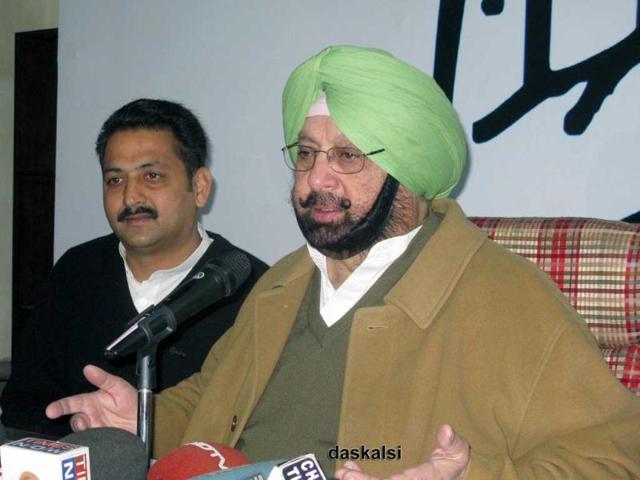 Patiala pegged back
Shock in New Moti Mehal after Congress, 'prince' return paupers from war; royal family left to defend stake in Punjab politics
UPDATED ON MAR 06, 2012 08:05 PM IST
The defeat of the Congress cocktailed with the rout of royal scion Raninder Singh set a melancholy mood in the home of Patiala peg.
Punjab Congress president captain Amarinder Singh saved his fort but lost any hope of regaining the kingdom. On top of that, his son was beaten in the battle for Samana.

The Congressmen in Patiala are in shock, and New Moti Mehal looks deserted.
The pasting has shattered captain's dream to become chief minister again and martial the state.
His wife and union minister of state for external affairs, Preneet Kaur, failed in her desire to initiate the political career of son Raninder. Most depressed are the local Congressmen, who hoped for a pound of flesh from the spoils in case of victory.
Royal palace New Moti Mehal, abuzz with activity till Monday, was almost ready for a massive celebration. Party workers had amassed there, and many had congratulated their captain in advance.
On Tuesday, the game changed, and they sat as ghosts in a haunted castle.
Raninder's humiliation thickened the question mark over the future of the royal family in Punjab politics. The rival factions have trained guns on captain to blow him off the chair of the state Congress president. Raninder's performance was a mood spoiler for the mother, who had fought for Tikku's ticket.
She wanted the Patiala rural seat for son, but the party got him in the ring from Samana against Akali heavyweight Surjit Singh Rakhra.
"Beyond imagination… unbelievable," said Congressman Kulwant Singh, who had purchased garlands for celebration, anticipating Raninder's victory. At the first confirmation of defeat, photojournalists were barred from entering the palace.
"We have direction not to let in anyone from the media," said the guards posted outside New Moti Palace.
Staring at defeat, Raninder had walked out of the counting centre at Samana after just the third rounds of counting. The Congress again blamed the high command and rebels for the results.
"Had the leadership in Delhi given captain a free hand to select candidates, the performance could have been better," said Congress worker Rashpal Singh. "The delay in projecting a leader proved the spoiler."
Close