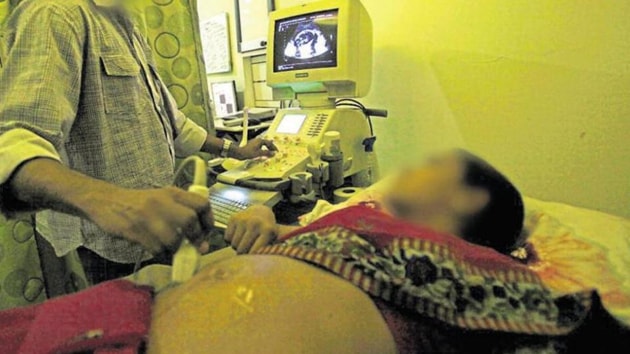 Patients from Haryana lured to Ludhiana for illegal sex determination test: Police
Two scan centres were unearthed in Ludhiana - one on June 1 in Jammu colony and other on June 7 in Daad village.
UPDATED ON JUN 12, 2017 11:27 AM IST
In a new development in the illegal sex determination racket unearthed last week, police suspects that the strings of these centres were even connected to Haryana, from where patients were lured for the illegal scanning of foetus.
Two scan centres were unearthed in Ludhiana - one on June 1 in Jammu colony and other on June 7 in Daad village. Both the cases were found connected as a doctor who is still at large used to visit the centres to hold illegal scanning.
However, sources in the police department said Bhupinder Singh, accused in the June 7 raid, was connected with some people in Haryana, from where patients used to visit Ludhiana for illegal scanning during pregnancy, that is against the Pre-Conception and Pre-Natal Diagnostic Techniques (PCPNDT) Act.
Hailing from Haryana, Bhupinder had shifted to Ludhiana a year ago and worked at a private hospital, where he came in contact with one midwife Sita. It was at Sita's house in Jammu Colony where the police officials had raided on June 1.
"Police are working on the angle that these scan centres were being used by some doctors in the neighbouring state to get their patients scanned. Those accused in Ludhiana were only a part of the chain, that is operating in the entire Punjab," said police sources.
Health teams from Haryana had in the past raided at least 22 locations in the entire state where illegal ultrasound centres were found.
After the launch of 'Beti Bachao Beti Padhao' in Haryana, strict action has been taken against unauthorised centres conducting sex determination in the state.
Surinder Chopra, station house officer of Model Town, said three accused in the two cases are still at large. "Dr Manmohan Sharma, Shahjad and Bhupinder Singh are still at large who were involved in operating illegal scan centres," said Chopra.
Chopra said further investigation is going on and more links in the case will be revealed soon.
Ludhiana health department had in years raided houses where portable ultrasound machines were being used to carry out scanning.
Dr Rajiv Bhalla, civil surgeon, had told HT that these portable machines can be procured only by licensed hospitals or doctors but were being used for scanning people through illegal means.
Close