Patti politics hits movement of wheat from Pungrain godown
FCI made two unsuccessful attempts, say it had to take help of paramilitary incase loading fails again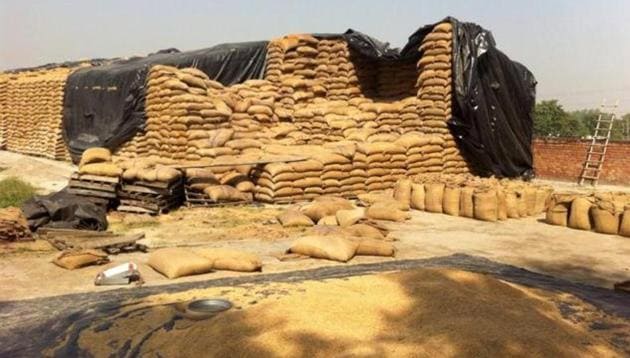 Updated on Jul 23, 2018 08:19 PM IST
A rift has erupted in the town of Patti in Tarn Taran district between local MLA of the ruling Congress, Harminder Singh Gill, and a transport contractor, who happens to be a supporter of Shiromani Akali Dal leader and former food minister Adaish Partap Singh Kairon, over movement of wheat from a godown there.
Two attempts made by the Food Corporation of India (FCI) to move out the stocks were futile, as truck operators led by Gill are opposing it. Now, the FCI, the Union government's body for movement of foodgrain for public distribution, is planning another attempt. Officials say that if there's no help coming from the state police, they will have to call in central paramilitary. Such a situation has erupted for the first time in Punjab, said an FCI officer who was unwilling to be named.
There are 2.5 lakh tonnes of wheat stored in the godown managed by state agency Pungrain, and FCI says the stock is rotting as movement has not taken place for the past two years. On two occasions, once last year and then on April 19 this year, FCI issued the orders to move out 25,000 tonnes, and a rake (goods train) reached Patti; but wheat couldn't be loaded as truck operators led by Gill opposed it.
Gill told HT that there are "lots of complaints" against the loading contractor, Gurmukh Singh Ghola; and wants that a new contractor be allotted work. "I am fighting for the cause of hapless truck operators who are underpaid or not paid at all by Ghola," claimed Gill, adding, "The contractor remained personal assistant to Adaish Partap Kairon, and for the past many years was allotted loading contracts by manipulating the tendering process and also on prices higher than the market rates. Pertinently, Kairon remained food and civil supplies minister during the previous SAD-BJP regime."
An official in the state food department said, again on the condition of anonymity, that Ghola had loading contracts in 144 mandis and other procurement centres during the previous government, and currently has the contract in nine mandis. The SAD-BJP's 10-year regime ended in March last year as the Congress won a brute majority in the state assembly polls.
Gill said he has demanded from food minister Bharat Bhushan Ashu the removal of the contractor and a vigilance inquiry into allotment of contracts in the past. It must be mentioned here that the state food department has blacklisted Ghola, but he took a stay from the Punjab and Haryana high court. "Every time we take action, he (Ghola) moves court to get stay," said another department official.
Contradicting Gill, Ghola said he is working within legal provisions and has valid contracts till August 2019. Accepting that he remained with Kairon "as political secretary", he said Kairon as minister never helped him in taking contracts. "Now the MLA (Gill) is creating troubles in loading as he wants to take contract for his men," alleged Ghola. He said he has been working for eight years through a registered body, Majha Truck Operators Society, and doesn't owe anything to truck owners.
When contacted, principal secretary, food and civil supplies, KAP Sinha said the state government will extend all possible help to the FCI. "We will support whatever is legally correct," he stated.
Politically, Kairon and Gill are sworn rivals. Gill gave a tough fight to Kairon, who is son-in-law of SAD patriarch and former chief minister Parkash Singh Badal, in the Patti segment in 2012. Then in 2017, he managed to defeat Kairon by a significant margin.
Close Story