[
food corporation of india
]
Latest from food corporation of india
According to latest official updates from the Centre's food department, the government has procured 6.9 million tonne of wheat so far from 586,000 farmers, who have been paid minimum prices of nearly
₹
1,400 crore.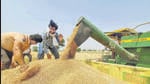 FCI Haryana recruitment: 380 vacancies of the watchman on offer, check details here

The Standing Committee report found that the wastage of 4.11 lakh tonnes of foodgrains led to an estimated loss of
₹
1,109.82 crore in the past four years.

"Tomorrow, on April 5, farmers will protest in front of FCI offices across the country by gherao. Marking this day as FCI Bachao Divas," said SKM

Even after his suspension from 2009 to 2012, he was posted in the enforcement and vigilance squad in CAPD Department, which indicated his influence and a possible nexus with other officials.