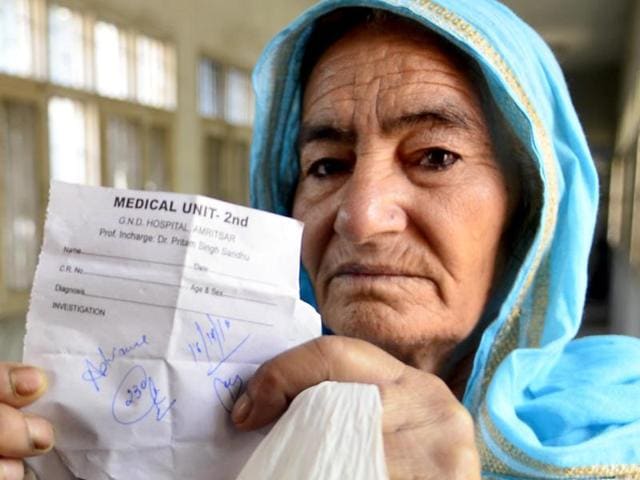 People feel harassed as medical stores refuse scrapped currency in Amritsar
With the cash crunch after demonetisation continuing, patients and their kin are alleging harassment in private and government-run hospitals as banned notes are not being accepted there.
UPDATED ON NOV 17, 2016 06:51 PM IST
With the cash crunch after demonetisation continuing, patients and their kin are alleging harassment in private and government-run hospitals as banned notes are not being accepted there.
Despite strict directions, banned notes of Rs 500 and Rs 1,000 are not being accepted at the government-run medical stores and diagnosis centres of Guru Nanak Dev Hospital. They are making the excuse of lack of change.
In some cases, they gave slips to the patients and asked them to get the balance amount later. This way the remaining amount is blocked by hospital employees, thus affecting people who have limited amount of money with them.
"My husband is admitted here and the doctors prescribed some medicines, but since morning I am facing a lot of difficulty in purchasing them," said Harbhajan Kaur, a senior citizen. "To buy medicine for Rs 270 from a government medical store at Guru Nanak Hospital, I gave Rs 500. But the employee did not return the balance amount. Instead, he gave me a slip with his signature, wrote the balance amount on it and said that I can take medicine of that amount whenever I want. Also, he said that he cannot return the change," she added.
Private chemists were seen harassing patients the most by violating the government rules, they refused to accept banned notes. The same thing happened with those who visited private laboratories and scanning centers.
Sukhwinder Singh of Roore Hasan village said that the chemists are asking customers about the notes they are carrying and not accepting banned notes.
Local resident Balwinder Kaur said, "I exchanged heated arguments with the lab owner, as he did accept the banned notes and gave us a tough time."
On condition of anonymity, employees of the hospital admitted that patients are facing inconvenience, despite the fact that authorities have made all arrangements to reduce it.
A private hospital refused to return a dead body to the kin and put the condition that they have to submit cash in valid currency, on Wednesday.
DIP IN NUMBER OF PATIENTS
People are compromising with their health due to lack of cash in valid notes. Cash counters at civil hospital and Guru Nanak Dev Hospital have a deserted look these days.
Cashier Pargat Singh, of GND Hospital, said that there is a 50% dip in the number of patients.
Farmer's community worst hit by ban
Farmers' community is largely affected by ban imposed on co-operative banks and Punjab State Co-operative Land Mortgage Bank in Punjab, as majority of the farmers have accounts in these banks.
Reserve Bank of India (RBI) has banned these banks to from exchanging banned currency notes.
Kisan Sangharsh Committee said that they considered the move to be in interest of India, but the reality is coming to the fore now.
"Ban on these banks has increased the woes of farmers who are sowing wheat in the fields and need money to buy seeds and fertilizers," said committee president Satnam Singh Pannu.
SUNIL JAKHAR ON DEMONETISATION
Gurdaspur: Farming community was the worst hit by the decision, said former Congress Legislative Party leader and Abohar MLA Sunil Jakhar.
Expressing concern over the harassment faced by the common man, he added that it is humiliating to the poor as they are unable to buy things even on credit.
He said that the decision will adversely affect the economy by lowering the gross domestic product (GDP).
EMPLOYERS GO LIBERAL IN DISBURSING SALARIES
Pathankot: While many are facing cash crunch and cursing the demonetisation decision, employees serving in private companies, who had to struggle for their salaries every month, are happy with their employers, who have gone liberal in disbursing their salaries.
In order to get rid of their Rs 500 and Rs 1,000 notes, these employers are welcoming employees to collect their salaries.
Traders who used to struggle to take payments from purchase counters are comfortable with payments being made in old notes.
Persons having unaccounted cash in Rs 500 and Rs 1,000 are in a hurry to clear old currency for which offers are being given in the market.
An employee on condition of anonymity said that he used to get salary in 2-3 months' delay, but after demonetisation, he got the long back log and one month's salary in advance.
MAN DIES OF CARDIAC ARREST IN TARN TARAN
Depressed over not being able to purchase goods for his daughter's wedding due to the ongoing currency issue, Sukhdev Singh died of cardiac arrest. The incident came in light after members of aggrieved family and residents of Kalla village spoke against the move of demonetisation during cremation of the deceased.
Belonging to a lower-middle class family, Sukhdev went to market to buy grocery and jewellery but shopkeepers denied accepting Rs 500 and Rs 1,000 notes.
"My husband was tense over it when he came back home. He was worried that we will not be able to make arrangements due to currency issue. At night, he complained of pain in chest and died of cardiac arrest," said his wife Surjit Kaur.
(With inputs from Kamaljit Singh Kamal and Vinay Dhingra)
Close