Punjab CM Amarinder Singh claims success in battle against drugs
He said as against 1.82 lakh addicts who reported at various OPDs for treatment in 2016, the number had gone up to 4.12 lakh in 2017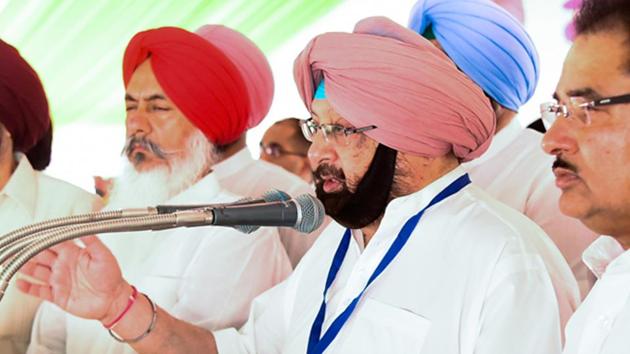 Updated on May 17, 2018 10:17 PM IST
Hindustan Times, Tarn Taran | By Anil Sharma
Punjab chief minister Captain Amarinder Singh on Thursday said the state government's battle against drugs has achieved success as out-patient departments (OPDs) of various health centres in the state have recorded 126% hike in number of drug addicts coming for treatment.
The CM was speaking after launching the second phase of the drug abuse prevention officer (DAPO) programme here.
He said as against 1.82 lakh addicts who reported at various OPDs for treatment in 2016, the number had gone up to 4.12 lakh in 2017. He also said that 5,107 addicts were being treated at government rehabilitation centres in the state and another 7,667 in private hospitals.
He said nobody found involved in spreading the menace of drugs would be spared. "The big fish will also be nabbed soon from wherever they have fled."
Observing that the poor results of Punjab School Education Board (PSEB) was one of the factors contributing to frustration among youth, thereby driving them towards negative influences such as drugs, the CM stressed the need to improve the education system. He said his government would make a policy for a 5% cut in the budget of all other departments to raise additional revenue for enhancing the standards of education.
4.8 lakh DAPOs registered
He said that of the 4.8 lakh DAPOs registered in the state so far, 26,000 were from Tarn Taran.
On the occasion, the CM also dedicated to the people of Punjab Nasha Roku Nigram Committees, besides launching the Buddy Programme and OOAT (Outpatient Opioid Assisted Treatment) centres at 60 sub-divisions of the state.
The Buddy Programme, launched in schools for counselling against drugs, will cover all students from Class 6 onwards, starting with Class 9 in the first phase.
Meanwhile, Amarinder also announced a slew of development projects worth around Rs 555 crore for the border district of Tarn Taran. He said Rs 360.25 crore would be spent on improving road network in the district.
Health minister Brahm Mohindra, education minister OP Soni and Amritsar MP Gurjit Singh Aujla were among others present on the occasion.
Shwait Malik questions CM's claim
Meanwhile, Punjab BJP chief Shwait Malik dared the CM to prove the success of the first phase of DAPO programme launched in March.
He said the second phase of the programme has been launched just to befool the innocent people of the state even as its first phase has failed to yield any fruitful result. The drug trade is still rampant in the state, he alleged.
Close Story