Punjab minister Tript Bajwa's UK trip kicks up row, BJP says he has SFJ link
Former Punjab BJP chief Vijay Sampla writes to Union home minister Rajnath Singh to probe his purported meeting with Referendum-2020 organisers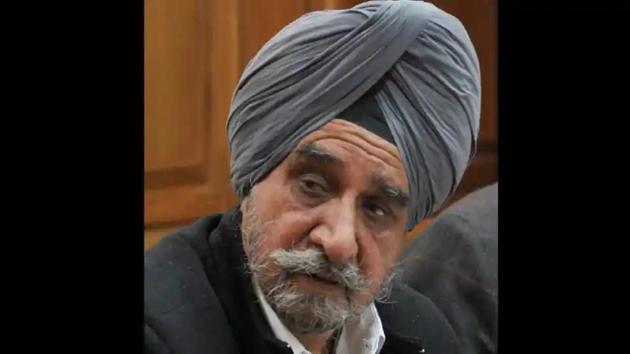 Updated on Aug 19, 2018 09:40 AM IST
Punjab rural and urban development minister Tript Rajinder Bajwa's recent two-day trip to the United Kingdom has courted a controversy with the opposition BJP accusing him of meeting the office-bearers of the Sikhs for Justice (SFJ), the organiser of 'Referendum-2020'.
Bajwa, who was in the UK from August 5- 7, had not sought the ministry of external affairs (MEA)'s permission which a minister has to by filing a pro forma specifying the purpose of the visit as "personal or official".
Bajwa's meeting was arranged by Balwinder Singh Pannu, a Congress leader from his constituency Fatehgarh Churian, Sampla said. Balwinder is the brother of Avtar Singh Pannu, co-ordinator of SFJ in the United States (US). Avtar, who is said to be number 2 in SFJ after its chief Gurpatwant Singh Pannu, is on the radar of Indian agencies for his pro-Khalistan activities.
Sampla said Avtar is brother-in-law of a Punjab DSP, Harjinder Singh Gill, who was part of the team that opened fire at Sikh men protesting at Behbal Kalan against sacrilege in October 2015. Two persons were killed in the firing. "Interestingly, Gill and another SP-rank officer, Paramjit Singh Pannu, who was also part of the police party at Behbal Kalan, did not figure among the officials against whom murder FIR was recommended by the Justice Ranjit Singh (retd) Commission that was formed by the state government to probe the incidents of sacrilege and police firing, "he said.
Following recommendations by the commission, an FIR was registered on August 11 against Charanjit Sharma (then SSP Moga), Bikramjit Singh (then Fazilka SP, detective), along with inspector Pardip Singh and sub-inspector Amarjit Singh.
"Keeping in mind gaps in the Ranjit Singh Commission's report and the role played by hardliners to prepare it, Bajwa has emerged as a key figure. As he is closely associated with the family of SFJ's Avtar Pannu, Bajwa must clarify why he visited London just a few days before they held a pro-Khalistan gathering there on August 12," said Sampla.
Bajwa trashes the allegations
When contacted, Bajwa rejected charges of his association with the Referendum- 2020 organisers.
"Balwinder is close to me and his brother is an SFJ leader. It is true that I did not inform the MEA about my visit but it is not mandatory for a minister. I had taken permission for the visit from the chief minister," he said.
"I was in London to participate in the bhog ceremony of a close relative," he said.
Topics
Close Story