Railway budget: More trains, Sunday Shatabdi on Chandigarh's mind
Feb 25, 2016 12:33 PM IST
Divisional railways manager (DRM) Dinesh Kumar said, "The bigger proposal which we have sent is to build an over bridge or a flyover on the Kalka-Chandigarh railway line which falls in the jurisdiction of Panchkula. We have received a long list of wishes from the residents and the most common wish is no hike in the ticket fares and also to increase the frequency of the trains from Chandigarh station, especially to the western Uttar Pradesh."
Road over bridge at the railway crossing at Kalka-Chandigarh road (Panchkula area), increase in frequency of the trains, more stoppages, availability of Shatabdi express trains on Sundays also; and extension of Garib Rath express are some of the proposals submitted by the Ambala division to Delhi railway board to consider for the railway budget 2016-17.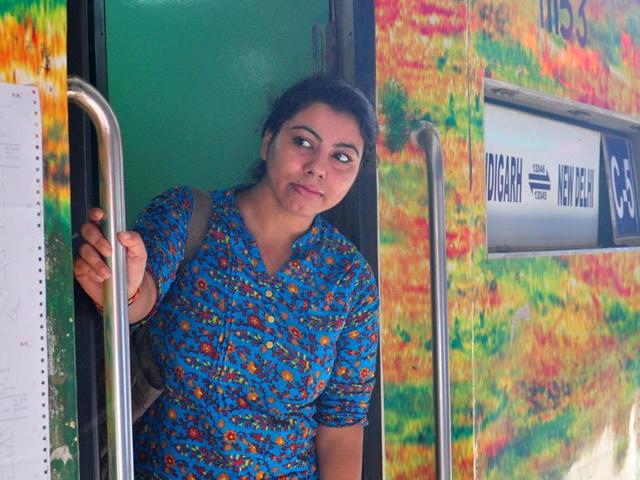 The other proposals include starting of new trains from Kalka to Jammu and other from Una/Nangal dam to Haridwar; improvement in the passengers' amenities; daily train from Chandigarh to Bandra superfast express etc.
Divisional railways manager (DRM) Dinesh Kumar said, "The bigger proposal which we have sent is to build an over bridge or a flyover on the Kalka-Chandigarh railway line which falls in the jurisdiction of Panchkula. We have received a long list of wishes from the residents and the most common wish is no hike in the ticket fares and also to increase the frequency of the trains from Chandigarh station, especially to the western Uttar Pradesh."
More number of ticket vending machines at the station, good quality guest room, construction of ramp at the Panchkula side of the station, safe night vehicle parking facilities, online booking of unreserved ticket services and de-linking the food cost from Shatabdi train were some of the other demands which the residents have shared.
Commenting on the pending projects of the railways, former city MP, Pawan Kumar Bansal said, "There are a lot of things which I would not call pending but they have never been implemented properly. It includes multilevel automated parking at the station, more number of trains, new rail line from Mohali to Rajpura, skill development centre and improvement of the station on the Panchkula side. Although a skill development centre has come up, but it is functional only in a single room despite the fact that only 25 locations were identified in the country which included Chandigarh. I would wish that the centre should be efficient enough. Meanwhile as the station has already got a tag of world class station, it will take some time to reach that level."
In the first week of February, Kirron Kher had submitted a proposal to the railway board, Delhi demanding extension of Garib Rath Express, presently running between Chandigarh and Ajmer to Abu/Ahemdabad, to further reduce the burden on railways; daily train from Chandigarh to Haridwar and train between Chandigarh and Lucknow should be extended to Ayodhya, bi-weekly train between Chandigarh and Dibrugarg and the Paschim express should have a halt at Shri Mahabirji Railway station in Rajasthan to help pilgrims particularly of Jain community.
What Chandigarh got previously
2015: New designs for tracks, warning systems at level crossing and plans to eliminate all unmanned railway crossings; doubling of the Rajpura-Bhatinda rail track, starting a new line — Ambala (Mohri-Sambhu) bypass; an amount of `601 lakh has been sanctioned in the budget for constructing gates at the unmanned Chandigarh-Morinda railway crossing. An announcement was made for introducing on-board entertainment in all Shatabdi trains and an additional track between Dappar and Chandigarh.
2014
The Ferozepur-Chandigarh Express operating five days a week was extended to six days, and the speed of a train between Chandigarh and Delhi was increased to 200 km/hour from 160 km
2013
Amritsar-Lalkuan Express (weekly) via Chandigarh, Chandigarh-Amritsar Intercity Express (daily) via Mohali and Ludhiana, Indore-Chandigarh Express (weekly) via Dewas, Ujjain, Guna, Gwalior and Hazrat Nizamuddin
Una/Nangal Dam-Hazoor Sahib Nanded Express (weekly) via Anandpur Sahib, Morinda, Chandigarh and Ambala
Katra-Kalka Express (bi-weekly) via Morinda
Kalka-Sai Nagar Shirdi Express (bi-weekly) via Hazrat Nizamuddin, Bhopal and Itarasi
2012: No new train was announced
2011: A weekly superfast train between Mumbai and Chandigarh, an extension of Chandigarh-Jaipur Garib Rath up to Ajmer and Lucknow-Saharanpur Express to Chandigarh
2010: Short distance Duronto train from Chandigarh to Amritsar
2009: Yamunanagar-Sadhaura-Chandigarh rail link
2008: Jaipur-Chandigarh Garib Rath